IRAQ: Charity helps restore Church devastated by Daesh (ISIS)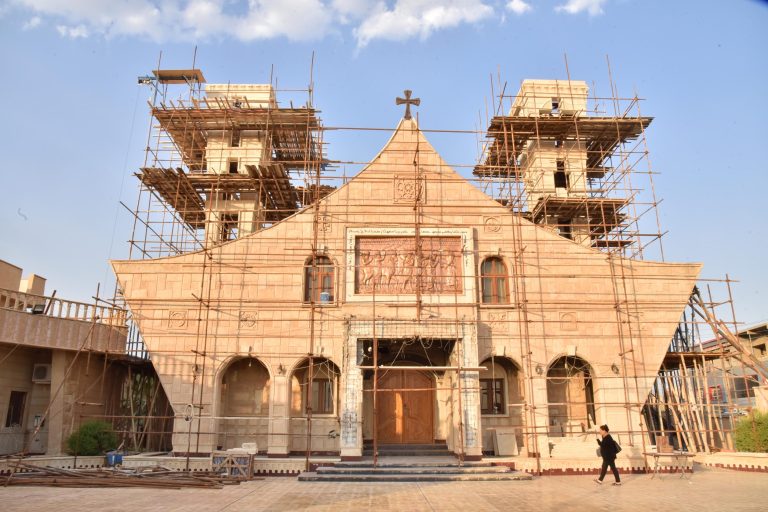 A church destroyed by Islamist extremists during their occupation of northern Iraq is set to be fully restored next month.
Church sources in the country told Catholic charity Aid to the Church in Need (ACN), which helped fund the restoration, that all repairs to the Church of Saints Benham and Sara in Qaraqosh (Baghdeda) are on course to be finished by the end of October 2023.
During the Daesh (ISIS) occupation of Qaraqosh in Iraq's Nineveh Plains, extremists destroyed the Syriac-Catholic church's two towers with explosives.
ACN project partner Father George Jahola told the charity: "The first time I visited the city, four days after its liberation, in 2016, we saw absolute devastation, the church burned, the bell tower knocked over. My feeling was of great sadness."
But, despite the building also suffering extensive damage from missiles and gunfire, Christians returning from Iraq's autonomous Kurdistan Region, where they had been IDPs, found the church was structurally sound. They subsequently resumed holding services there.
Father Jahola added: "The community was thrilled to be able to return to pray in this parish.
"We wanted to strengthen and encourage this faith, and explain that the Church is more than buildings, it is the souls of the people who live in the parish.
"After two years, we decided it was time to restore the church, to give the people hope."
Repairs to the interior were completed earlier this year and work begun on the outside. The project has cost more than £400,000.
Parish priest Father Boutros Sheeto also told ACN that the restoration of the church has given hope to Christian families in the Qaraqosh.
He said: "Having the church restored gives the community psychological and moral strength. Without this reconstruction, many families today would be thinking about emigrating."
Father Sheeto went on to put the suffering of Iraq's Christians during the Daesh occupation in the context of Jesus' passion and death
He said: "Since its inception to this day, the Church has been persecuted. A Church that is not persecuted is a Church that does not carry Christ, because Jesus was crucified and suffered during his life and his mission.
"If Jesus suffered, died, was buried and rose, we have to suffer with Jesus and suffer with the Church so that we can live the Resurrection and be witnesses to the gospel of joy and hope in the world."
With thanks to John Smith and Filipe D'Avillez