IRAQ: Charity offers more help for displaced families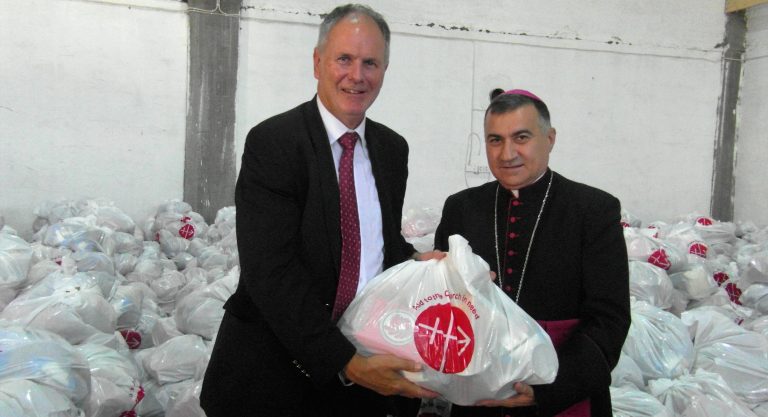 Thousands of displaced families in northern Iraq urgently in need of a roof over their heads have had their prayers answered –  with help from the UK benefactors of a leading Catholic charity.
Aid to the Church in Need (UK) is giving £400,000 to provide shelter as part of a programme of aid for 100,000 displaced people forced out of their homes in the Nineveh Plains by invading Daesh (ISIS) forces.
The latest tranche of help is urgently needed for the displaced communities in Kurdish northern Iraq who for three years have been totally dependent on emergency aid.
Neville Kyrke-Smith, UK Director of Aid to the Church in Need, said: "The benefactors of Aid to the Church in Need have been wonderful in their tremendous response in providing emergency help for Iraqi Christians driven from their homes.

"Having visited the displaced families sharing homes in northern Iraq, I know how much this vital help means to them. It has put them on the road to recovery."
At least 46 percent of the emergency help provided by Erbil archdiocese has come through Aid to the Church in Need, which started giving aid within days of the families' arrival in Kurdish northern Iraq.
Initially, the families slept out in the open or under bridges but, over time, thanks to ongoing aid, they were given tents and then portable homes, and finally they moved to purpose-built flats – mostly in the Ankawa district of the Kurdish capital, Erbil.
The latest grant covers three months' rent for the families living in the flats.
With Daesh forced out of Nineveh last autumn, the charity is rolling out plans for the families to return to the region, which had been their homeland for thousands of years.
Central to the project is repairs to homes following an ACN survey which showed damage and destruction to nearly 13,000 dwellings across nine predominantly Christian villages in Nineveh.
With more than 80 percent of displaced families now interested in returning to Nineveh, Father Andrzej Halemba, coordinator of ACN Middle East projects, is working with bishops from different denominations to enable the resettlement programme to move ahead.
Father Halemba, who is acting chairman of the Nineveh Reconstruction Committee, which is overseeing the resettlement plan, said: "This is a historic moment for the future of Christianity in Iraq."