IRAQ: Hope is stronger than fear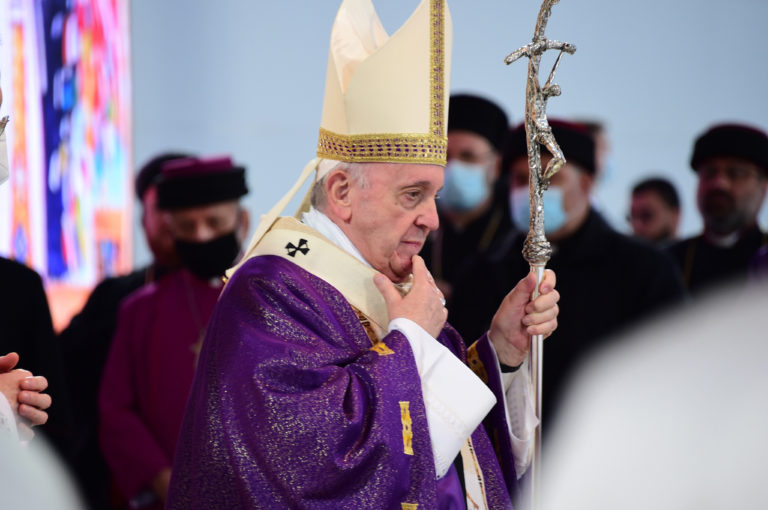 Pope Francis' historic trip to Iraq has given the country's suffering Christians – who survived a genocide at the hands of Daesh (ISIS) – a huge boost in confidence, according to a charity director, who was there to witness the visit.
Regina Lynch, Director of Projects at Catholic charity Aid to the Church in Need (ACN), travelled on the papal plane as the representative of the Assembly of Organisations for Aid to the Eastern Churches (ROACO).
She said: "As soon as the helicopter landed in Qaraqosh, a Christian town in the Nineveh Plains, where they were forced to flee Daesh, the people went mad. They were singing, and dancing.
"The Dominican Sisters were on the roof of the church dancing. They were so happy and delighted to have the Holy Father there. It's hard to put into words how happy the people there were. The bishops were delighted, and the priests and the Sisters too."
While in Qaraqosh, Pope Francis prayed the Angelus at the Al-Tahira Church – desecrated by Daesh – an iconic building whose repair was part-funded by a grant made this month by ACN (UK).
Pope Francis reminded the Christians that they have the support of the entire Church.
Ms Lynch said: "His words to the Christians throughout the whole visit were so warm – he recognised their suffering and was very encouraging.
"He talked about them being a mustard seed – even though they are small in number, much good can come from them.
"He told the young people, don't stop dreaming, don't lose hope."
Ms Lynch said the Pope educated Iraqis about the ancient roots of the Christians.
She said: "Even before the trip, there was an awareness suddenly among the ordinary Iraqi population that these Christians didn't come from the West, they didn't come with the Crusaders. They have lived there for centuries and their roots are there.
"Already, the awareness of the people in Iraq, of who we are, of who the Christians are, is increasing."
Ms Lynch said Pope Francis highlighted how Christians should work for peace while demanding equal treatment.
The projects' director added: "Pope Francis said, 'blessed are the peacemakers, blessed are the persecuted. From your faith, you can be the peacemakers. You have a role to play.' At the same time, he didn't hesitate to underline that they have been persecuted.
"He demanded full citizenship for the Christians, that they are not treated different. He said that everyone has the right to freedom of conscience and freedom of religion."
Iraq is a priority country for ACN, with the charity providing help – emergency aid, repairs to houses and church buildings, and medical assistance and other urgent support during the COVID-19 pandemic – and high-profile clergy thanked ACN for its support.
Ms Lynch said: "Archbishop Warda of Erbil said thank you to ACN for the support for the Catholic University of Erbil."