IRAQ: School of hope and recovery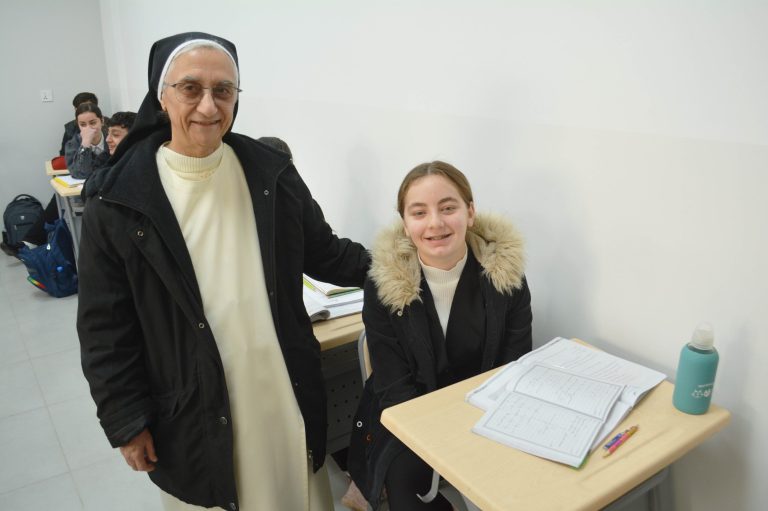 Iraq's Christians will, on Sunday, pass a momentous milestone on the way towards recovery from genocide when a community of Sisters officially open their long-awaited school.
With capacity for 625 students, Al-Tahira Secondary School opens on 1st May in Qaraqosh (Baghdeda), the largest of the 13 Christian majority towns and villages in the iconic Nineveh Plains.
Unlike most structural projects which involve restoring buildings damaged by Daesh (ISIS) during their occupation of Nineveh, the mixed school has been built from scratch in what was the playground of Al-Tahira Primary School, also run by the Dominican Sisters of St Catherine of Siena.
Al-Tahira Secondary School, which admitted its first students in February, comprises state-of-the-art facilities spread over three floors, including three science laboratories, a computer centre, a large conference hall, library and chapel.
Five years in the making, the school is one of the single biggest projects in Iraq supported by Aid to the Church in Need (ACN), the Catholic charity for persecuted and other suffering Christians.
Dr Thomas Heine-Geldern, the Executive President of ACN (International), who will be participating in the opening ceremony along with other staff from the charity, said: "ACN was involved right from the start of the initiative and it has been a privilege to work with so many committed individuals and organisations to bring this project to fruition, including the Austrian bishops' conference, supported by the Austrian government."
ACN was involved in securing more than 80 percent of the US$2.1 million (£1.67m) needed to build the school.
Thanking benefactors for their tireless support for Iraq, he went on: "I would like to pay tribute to Sister Clara Nas, the other Dominican Sisters and all those who have worked tirelessly to make this dream a reality."
He added: "Back in the darkest days of the Daesh (ISIS) occupation of the region, who would have thought that just a few years later we would be celebrating the opening of a brand new school?"
Showing an ACN delegation around the school last month, Dominican Sister Huda said the school is about helping to secure a future for Christians in a country where numbers have fallen from more than one million before 2003 to perhaps 150,000 today.
She said: "We are building the character of the students to be leaders in society, taking responsibility and developing a plan to remain in this country.
"The presence of the Sisters here, the presence of the school here are both signs of hope, giving people a reason to stay."
Student Rameel Rabu Wadi, aged 16, told ACN: "With buildings like this and a chance to study well, we feel we have a big future here. Thank you so much for supporting us."