IRAQ: Sisters look forward to coming home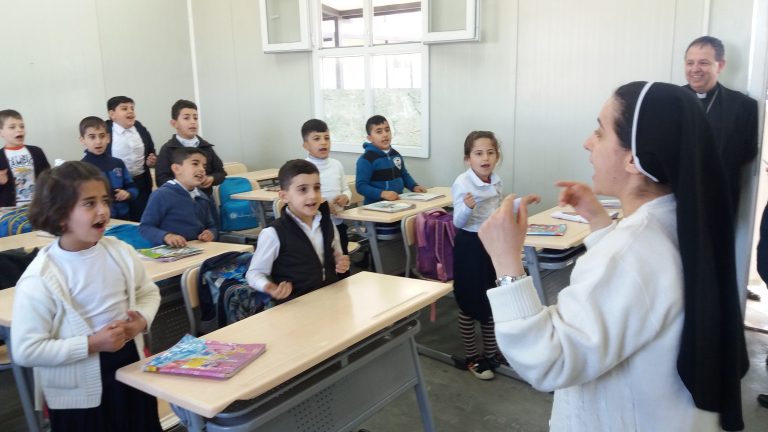 Religious Sisters in Iraq have set out plans to return to a key town in the ancient Nineveh Plains where they hope to provide help and healing for thousands of Christian families returning there.
Sister Clara Nas, Prioress General of the badly damaged Immaculate Mary (Al-Um Al-Tahira) Convent in Qaraqosh, a large Christian town in Nineveh, spoke to Catholic charity Aid to the Church in Need about the importance of maintaining the Christian community in Iraq.
Seeking to help Christians in towns and villages across Nineveh, the Sister added: "We have decided to return to our towns."
The Dominican Sister of St Catherine of Siena added: "We trust that our presence in the area would encourage the Christians to return to their land and nourish the Christian presence in Iraq."
Despite 30 percent of Qaraqosh being destroyed by Daesh's (ISIS) genocidal violence, the Sisters estimate that about 1,050 families returned to the town last month (August).
In total, nearly 13,000 homes were damaged or destroyed by Daesh during their 27-month occupation of Nineveh.
Aid to the Church in Need is repairing many such homes and has also given funds to help the Sisters to rebuild their convent in Qaraqosh. 
With schools across the region preparing to open in mid-September, Sister Nas said: "We have chosen this convent because of its location – it is close to the church, the priests' house, the policemen's residency and the primary school that belongs to our congregation."
The Sister explained that she intends to send members of her congregation to the rebuilt convent as and when security and basic living needs are met.
Sister Nas added: "We want to rebuild our convent and return home."
The Sister thanked ACN for helping religious Sisters in Iraq, its emergency relief for displaced communities and its repair of Christian homes.
The charity is assisting the Nineveh Reconstruction Committee (NRC) with the return of up to 15,000 Christians to Qaraqosh.
The NRC has so far restored 986 family homes in the area.
The Sister's comments were echoed by Latin Archbishop Jean Sleiman of Baghdad who highlighted the importance of the continuing Christian presence in Iraq.
Speaking in an interview with Aid to the Church in Need, he said the Christian community should not "act like a minority anxiously clinging to a past history, [but] they must rebuild their homeland, with a citizenship and a charter of human rights, for the common good and proper organisation."
He added: "The Christians of Iraq are citizens of a great nation, and not a minority imprisoned by their own helplessness."
ACN UK recently provided £830,000 (€900,000) emergency shelter (rent) for up to 12,000 displaced Christian families – 60,000 people – still in Erbil, Kurdish northern Iraq, many of them preparing to return to Nineveh.  
ACN is also helping the Church in its pastoral role including repairs to St George's Church in Telskuf. The church was attacked by Daesh in 2014 and 2016.