LEBANON/SINGAPORE: 'Cancelling never crossed my mind'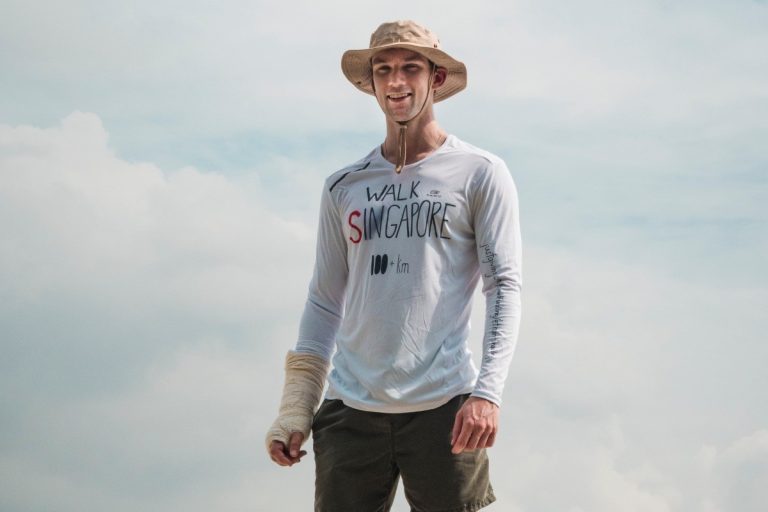 A member of an ancient Chivalric Order, who wanted to raise money for a Catholic charity following the Beirut explosion, walked more than 70 miles in temperatures that peaked close to boiling.
Not even a fracture deterred Ethan Bradley, 27, from completing the sponsored walk around the perimeter of Singapore Island, a task he accomplished in under 28 hours.
So daunting was the task that Ethan – nursing his arm in a cast – started hallucinating.
Ethan, who belongs to the Military and Hospitaller Order of St Lazarus of Jerusalem, raised £1,000 for the work of Aid to the Church in Need (ACN), which is helping people devastated by the 4th August blast in the Lebanese capital.
He told ACN: "After reading the news and seeing the horrible first-hand images and videos from social media of the explosion in Beirut, I was shocked to see the sheer level of destruction and terrible cost of human life."
Ethan added: "I was determined to help."
The blast killed more than 200 and left 300,000 homeless and, although Ethan injured his hand before the walk, he was adamant that he would carry it out.
He said: "By the time I had fractured my hand I already had a fair few donations…I didn't want to let them down by cancelling the walk, or take potential money away from a good cause, and in all honesty cancelling was never something that crossed my mind."
Ethan, from Milton Keynes and working in Singapore as an English teacher, walked with three friends, and said the high temperatures led to serious difficulties.
He said: "During midday we had to walk across this desolate stretch of road…With the heat reaching 33/34 degrees [Celcius], no shade whatsoever and our water supplies running out, it was definitely a test of our morale…
"After about 16 hours of walking, I started hallucinating; I kept seeing dogs and temples everywhere. I would be sure that a curb would be a dog, or a bus station be a temple, until I was about a meter away, and then it would transform back into what it really was."
Ethan added: "A massive thank you to all those who sponsored me.
"Your support has been hugely appreciated and the money raised will make a real difference to the lives of those affected by the humanitarian disaster in Beirut."
He went on: "If people still wish to donate that would be incredible!"
Aid to the Church in Need (ACN) provided emergency aid following the blast and recently announced a €5million (£4.53m) aid package, mainly to repair church buildings.