LEBANON/SYRIA: ACN praises bishop who set up refugee lifeline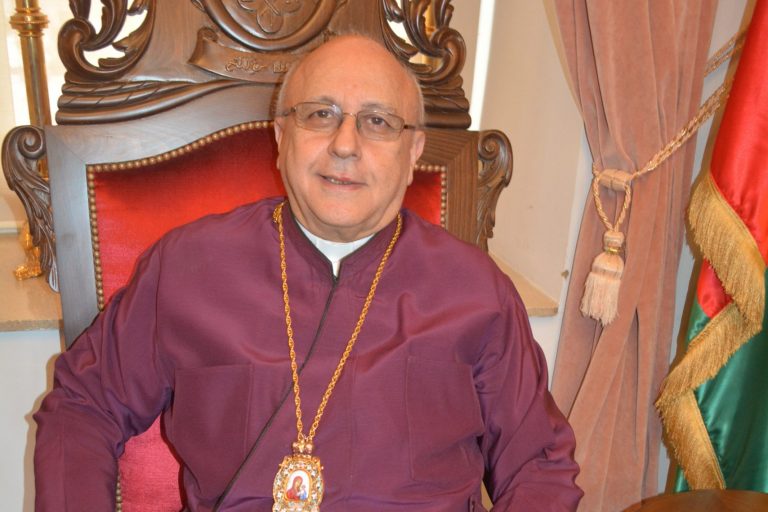 A Catholic charity has offered a heartfelt tribute of thanks on the retirement of a Lebanese bishop who has spearheaded an aid programme that has come to the rescue of thousands of refugees fleeing the Syrian conflict.
Neville Kyrke-Smith, national director of Aid to the Church in Need (UK), praised initiatives set up by Lebanon's Melkite Greek-Catholic Archbishop Issam John Darwish of Zahle and the Bekaa, who worked with the charity to provide support for Christian refugees who received no help from the UN.
Mr Kyrke-Smith, who visited the projects in Lebanon said: "Seeing the projects first hand you could tell the real difference they make to the families who fled the war in Syria.
"It was a privilege to be with Archbishop Darwish – standing with him in the Bekaa Valley, meeting with refugees and helping serve food to Syrian Christian refugees and others."
Zahle's Melkite Church began helping just 18 families shortly after the war began but they quickly found themselves providing aid for hundreds of families.
Speaking to ACN last year, Archbishop Darwish said: "Our Archdiocese in Zahle and the Bekaa for Greek Melkite Catholics had the leading role in helping the displaced Syrians.
"We have supported and helped them since the beginning of their displacement to Lebanon until today, especially the Christian refugees, who were and still are invisible to all European and international communities, because they live [outside] camps.
"So they are always neglected in terms of support or help.
"The number of displaced Christian families was more than 2,000 families, among which 800 families are in our region."
Church help for refugees included rent, clothes and food.
In 2015 the Melkite diocese set up the Saint John the Merciful Table to provide regular hot meals for both refugees and the poor.
Named after the seventh-century Saint John the Merciful, the ACN-backed restaurant had to close because of coronavirus restrictions, so it introduced a socially distanced take-away service, which now provides more than 1,400 meals every day.
Archbishop Darwish told ACN: "Saint John the Merciful Table has never stopped providing free hot meals to the needy people.
"Due to the COVID-19 pandemic we directly put in place a plan that allows the people to get their meals without risking their safety."
Paying tribute to the prelate's work, Mr Kyrke-Smith added: "Archbishop Darwish is a shepherd caring for his flock, which has been much added to by the refugees, teaching the Faith and inspiring hope.
"He is also a negotiator amongst the politicians and businessmen of Lebanon, helping to ensure help reaches those in such need.
"He has been a pivotal and vital partner for ACN over the years – and a dear friend of ours and of all in need."