PAKISTAN: Head imam backs Christian nurses in blasphemy crisis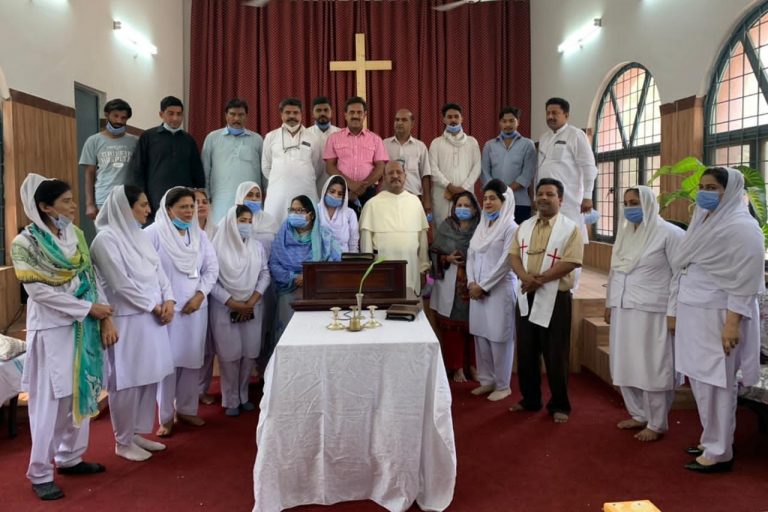 Muslim leaders in Pakistan sided with Christians accused of blasphemy in a move that has defused a dispute which risked sparking national riots and an international diplomatic crisis.
Father James Channan praised senior imam Allama Muhammad Zubair Abid and other senior officials who refused to back Muslim nurses at the Punjab Institute of Mental Health in Lahore who had accused three of their Christian colleagues of insulting Islam via social media.
Sakina Mehtab Bibi, Jessica Khurram and Treeza Eric were accused in relation to a video uploaded to a nurses' WhatsApp group reportedly criticising the reaction of Imran Khan's government to an EU motion highlighting human rights violations in Pakistan and requesting the European Commission withdraw the country's trade privileges.
The message, apparently recorded by an unidentified individual in France, included criticism of the country's enforcement of controversial blasphemy laws and highlighted the role played by Tehreek-e-Labbaik Pakistan, a controversial religious political party.
When word spread about the WhatsApp message, Muslim nurses and paramedics staged a protest against their Christian colleagues, marching around the campus and shouting Islamist slogans.
Christian nurses were allegedly threatened, some put under pressure to convert to Islam and the three accused went into hiding in fear of their lives.
Nursing superintendent Khalida Suleri and her supporters demanded the institute's chapel be turned into a mosque – they marched inside, recited the Islamic Na'at chant and confiscated the chapel key.
Fearful Christian nurses appealed to Father Channan, director of the Lahore Peace Centre, who, sensing the scale of the potential crisis at what is described as the largest psychiatric centre in southern Asia, requested the intervention of Mr Zubair Abid, vice-president of the Pakistan Ulema Board – a body of Muslim scholars.
Listening to both sides of the dispute, Mr Zubair Abid, who is also chairman of the Pakistan Peace Foundation, said the Christian nurses had not committed blasphemy.
A subsequent hearing was held at the institute and was attended by representatives of the Pakistan federal and provincial governments, including Shunila Ruth, Parliamentary Secretary for Inter-religious Harmony and Dr Nausheen Hamid, Parliamentary Secretary for the Ministry of Health as well as Christian and Muslim nurses, Church leaders and police.
At a follow-up meeting on Friday (8th May) Father Channan described what he called a "reconciliation" held in the chapel.
Speaking afterwards to Catholic charity Aid to the Church in Need, Father Channan, director of the Lahore Peace Centre, said: "Mr Zubair Abid played a vital role in defusing the situation which so easily could have flared up and caused riots in different parts of the country."
Paying tribute to the involvement of senior civic leaders who helped bring about the reconciliation, many of them Muslims including institute executive director Dr Muhammad Ashraf, Father Channan said: "It is proof that God does work miracles. We experience them in our lives – those who are enemies can be reconciled."
The incident is the latest in a series of blasphemy allegations against Christian nurses in Pakistan, including one last month when Mariam Lal and Navish Arooj were accused of tearing a sticker with Quranic verses from a hospital in Faisalabad. An enraged boy reportedly responded by stabbing one of the nurses in the arm.
Thanking ACN for supporting his Lahore Peace Centre, which promotes inter-faith understanding, Father Channan said: "I have had good relations with ACN for many years and the charity has done a lot to help our pastoral outreach to young people."