PAKISTAN/UK: PM's Special Envoy for Freedom of Religion or Belief receives Pakistan girl's asylum petition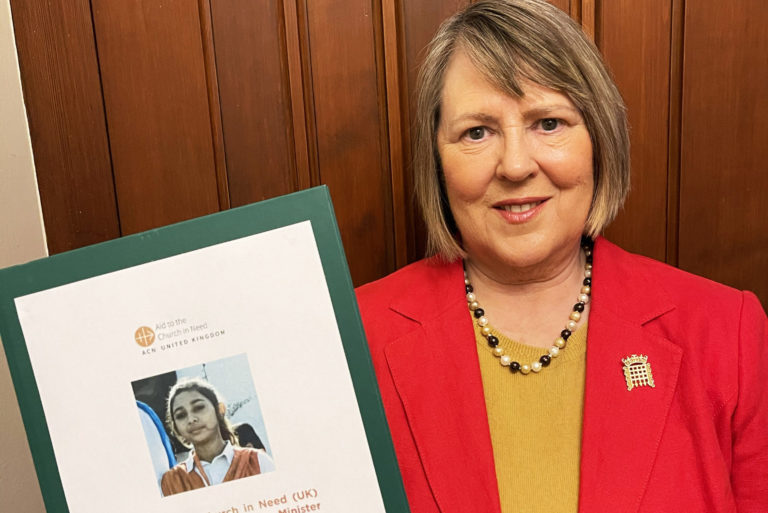 Fiona Bruce MP, the Prime Minister's Special Envoy for Freedom of Religion or Belief, has received a petition from a Catholic charity calling for asylum to be granted to a 14-year-old Christian girl in Pakistan whose life is in danger.
The petition, presented by Aid to the Church in Need (ACN), calls on Boris Johnson to grant asylum to the UK for Maira Shahbaz and her family.
The girl and her family are in hiding after receiving death threats, and Church leaders, legal advocates and charities have warned of fatal consequences if they do not leave Pakistan soon.
Receiving the petition, Fiona Bruce, the Conservative MP for Congleton, Cheshire, said: "Maira's situation, and that of her family, is a tragic one and hearts goes out to her – as demonstrated by the thousands upon thousands of people who have signed Maira's petition which I have received today. I am immediately drawing it to the attention of the Home Secretary for her urgent consideration."
More than 12,000 people have signed Maira's asylum petition, organised by ACN, as part of its #RedWednesday campaign demanding an end to religious persecution.
An open letter to the Prime Minister backing the asylum bid has been supported by more than 30 MPs, peers, bishops and leaders of charities and human rights' organisations.
Maira was abducted close to her home last April and she later told police how she was forced on pain of death to convert and marry her abductor, whom she alleges blackmailed her after filming her being gang-raped.
In August, nearly four months later, she escaped her abductor who responded by accusing her of apostasy.
Church leaders, friends of Maira Shahbaz in Pakistan, legal advisors and advocates have told ACN that the girl and her family have been receiving constant threats and that suspicious people had been reported going house to house, demanding to know their whereabouts.
Among the many bishops backing Maira's asylum appeal is Bishop Philip Mounstephen, who in 2019 produced the Bishop of Truro's Independent Review for the UK Foreign Secretary of Foreign and Commonwealth Support for Persecuted Christians.
Bishop Mounstephen said: "Tragic cases like that of Maira Shahbaz are a test case for the UK Government's commitment to put freedom and religion front and centre in its foreign policy.
"I urge the Government to recognise how Maira's rights have been potentially fatally compromised and offer her asylum."
Archbishop Angaelos, Coptic Orthodox Archbishop of London and Founder and Director of Refcemi, said: "Over the past years we have seen numerous examples of religious intolerance leading to the vilification and active persecution of communities and individuals. It is my feeling that Maira Shahbaz is in such a position at the moment.
"In line with Britain's generous policy of providing refuge and safety to those most vulnerable, I hope that Maira and her family will be afforded the opportunity of living in the safety that we would all expect for ourselves."
ACN UK National Director Neville Kyrke-Smith said: "It is urgent that the Prime Minister acts to save the lives of Maira and her family. They are in grave danger. We have a duty of conscience to act."
Mervyn Thomas, Founder President of UK human rights organisation CSW, said: "Sadly, there is no place in Pakistan where Maira will be safe and be able to live without the fear of being recaptured at any moment.
"The profound hostility and suspicion towards Christians in the country, her return to Christianity subsequent to her forcible conversion, and the deeply held belief by the majority of Muslims in Pakistan that apostasy is punishable by death exacerbate Ms Shabhaz's plight, rendering her extremely vulnerable."