RUSSIA: God's love crosses boundaries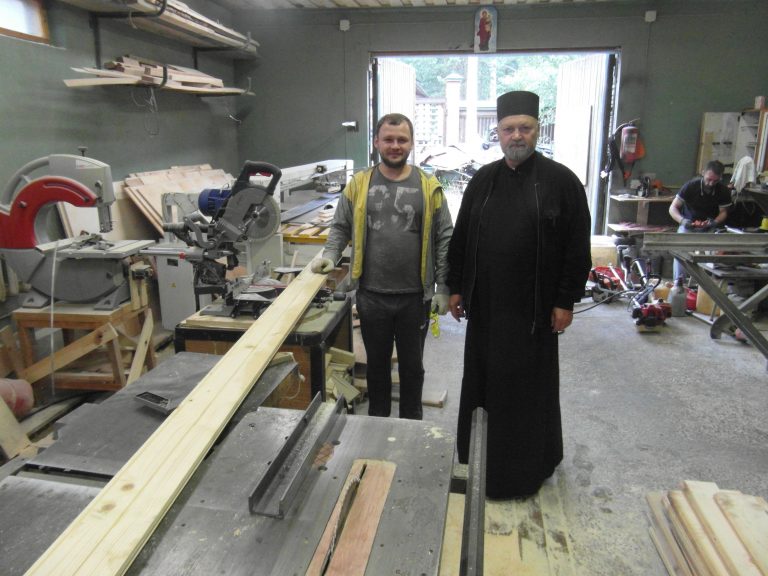 Returning from Russia, the UK head of a leading Catholic charity has revealed life-changing ecumenical projects helping drug addicts and women with crisis pregnancies.
Aid to the Church in Need (UK) National Director Neville Kyrke-Smith spoke about meeting vulnerable people being helped by the charity on his project trip to the Russian Federation.
During his visit, Mr Kyrke-Smith officially opened a shelter for destitute mothers in Stavropol with Russian Orthodox Metropolitan Kirill of Stavropol and Nevinnomysk, and the town's deputy mayor.
Mr Kyrke-Smith said: "This project is absolutely vital, as it supports pregnant women who are often left without any assistance from their families.

"The centre was founded by the Orthodox Church – and we are delighted to be able to support this important ecumenical project, helping women in a very difficult situation."
Metropolitan Kirill told Mr Kyrke-Smith: "There are no boundaries to charitable love and no borders across which God's love cannot reach.
"Thank you and may God bless our dear friends at Aid to the Church in Need. We pray for them."
Aid to the Church in Need has given more than £20,000 (€25,000) to the centre which provides sheltered accommodation for up to 42 families.
The centre also runs crisis pregnancy telephone counselling, and gives out advice and information about alternatives to abortion.
Mr Kyrke-Smith also visited a rehabilitation centre for drug addicts in Sapernoye, Saint Petersburg – near the border with Finland.
Father Sergij Belkov, who runs the centre, told him the rehabilitation course is helping 45 people with drug problems.
Recovering addicts mentor new arrivals for a year of prayer, catechesis and intensive physical work.
One graduate of the programme, 23-year-old Alexandra, who is now working as a mentor, told Mr Kyrke-Smith what a difference the programme had made to her.
She said: "This changed everything – everything in life, in relationships and with all people. Now I am a practising Christian. I love my work here and would like to be a volunteer here for a year or more."
Describing the routine there, ACN's UK director said: "Each day begins with 40 minutes of prayer and reflection, there is a discussion on a biblical reading text to think over every week and each day ends with prayer."
He added: "Father Belkov and his team are serving at the foot of the cross – offering the hope of life – and the resurrection."
With high success rates – 80 percent do not relapse into drug addiction – the programme is now being run at other centres in Russia and neighboring countries, several of which are being helped by ACN.
Father Belkov said: "Thank you to the benefactors of ACN for giving pastoral and practical help – you helped with the carpentry machinery here [Sapernoye], the kitchen and store at Torfjanoe and also for the farm at Krasnoarmeyskoe.
"We pray every day for the benefactors, that is a rule."
While the vast majority of ACN's aid is channeled via Catholic Churches, it also supports a small number of Orthodox projects in former Communist countries.
ACN's founder Father Werenfried van Straaten started what he described as the "ecumenism of solidarity" in the 1990s, extending aid to the Russian Orthodox Church after the collapse of communism. This initiative was encouraged by Pope St John Paul II.
Mr Kyrke-Smith added: "It is a privilege for a Catholic charity to support, in some small way, the vital pastoral work of the Orthodox Church in this area."

He added: "We are greatly encouraged by the Russian Orthodox and Catholic Churches' cooperation, particularly on social projects and protecting the right to family and life."
Mr Kyrke-Smith also met the members of a group set up by Orthodox Metropolitan Hilarion of Volokolamsk and Catholic Archbishop Paulo Pezzi of Moscow to promote solidarity with the Middle East's beleaguered Christians.
Last week a joint Russian Orthodox and Roman Catholic delegation visited Lebanon and Syria, on a trip organised with help from ACN.
On 17th September 2017 Metropolitan Hilarion and other Christian leaders from Russia met bishops from Lebanon's Bekaa Valley who are helping Christian refugees who fled war and persecution.
The Lebanese bishops they met included Melkite Archbishop John Darwish of Zahle and Furzol who will be speaking about the Church's work with refugees at ACN's Westminster Event at Westminster Cathedral on Saturday 14th October.