SYRIA: Charity offering crisis lifeline to Faithful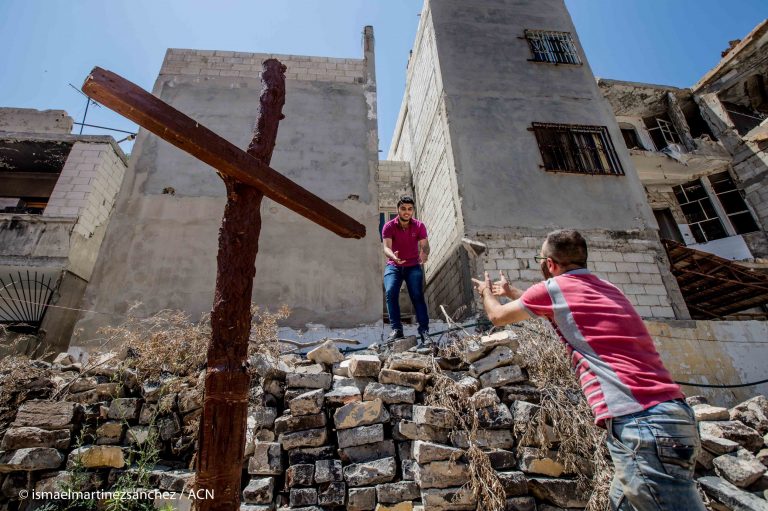 A Catholic charity has pledged more than £1 million for projects in Syria, as a deepening economic crisis, following a decade of war, has left millions begging for bread, shelter and other essentials.
Aid to the Church in Need (ACN) is providing ongoing support including food, rent and medical aid – not to mention spiritual and psychological support.
Projects helped by the charity include rent for 100 families in Aleppo for a year, a summer holiday programme for disabled children, and food and clothes for needy families in the capital Damascus.
Working with the Melkite Greek Catholic Patriarchate in Damascus and other Christian aid organisations, ACN is helping the "Bakery of Mercy" in Maarouneh, northern Damascus, which has been providing food, to expand its work.
Set up in September 2020, it currently provides around 1,000 families with affordable bread.
Before the civil war began in 2011 a 2kg loaf of bread cost around £S15, today a 1kg loaf can cost up to £S500 – although the government is making available limited quantities of bread at a subsidised rate.
Internally displaced persons, as well as those living in elderly people's homes and orphanages, are provided with free bread by the "Bakery of Mercy".
With help from ACN, plans are now underway to extend the premises to build a soup kitchen and a social market, which will offer basic food and other products at affordable and stable prices.
The UN has reported that 12.4 million (60 percent) of people were not getting enough to eat – as a combination of factors, including international sanctions and financial meltdown of key trading partner Lebanon, have led to food prices rocketing in Syria.
Father Ashkar, the Maronite Eparchy of Lattakia's finance officer, told ACN: "After nine years of war, international isolation, international sanctions against Syria and the Lebanese economic crisis, the pandemic has added insult to injury with many people losing their jobs in a prolonged lockdown and the Syrian people almost reduced to begging.
"The worst of all these calamities was the Lebanese economic crisis with the devaluation of the currency and the capital controls, which made most Syrians lose their savings there".
Father Ashkar is involved with another ACN-backed project, providing medical treatment for those loving in the eparchy who need medical treatment but cannot afford it. Many of these are internally displaced.
Among the help provided, the project aims to cover prescriptions for 2,385 patients and 60 courses of medical treatment.
Bishop Antoine Chbeir of Lattakia told us: "Most of our patients rely completely on us and it is a question of death or life for chronic patients, in particular for those who imperatively need medication as diabetics, those with heart problems, blood pressure, cancer".
To try to address Syria's lack of jobs, the ACN-backed Christian Hope Center opened in Damascus last Thursday (22nd July), providing families with funds to begin new businesses or restart ventures disrupted during the war.
Since the civil war began in 2011, Syria has been a priority country for ACN, where the ancient Christian community has shrunk to one-third of its 1.5 million pre-war total.