SYRIA: Stop blocking vital aid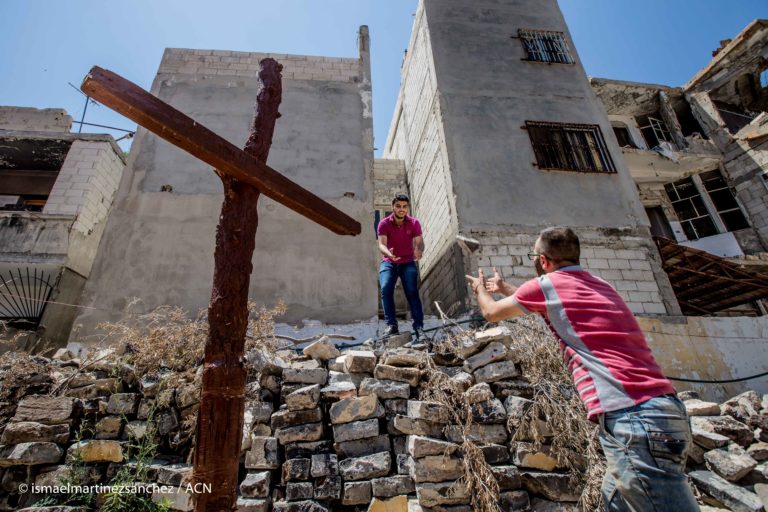 An urgent call to end the block on vital aid to people in sanctions-crippled Syria has come from the leaders of a Catholic charity amid fears that the country's humanitarian crisis has reached an all-time high.
Aid to the Church in Need (ACN) is demanding changes to allow milk, groceries, warm clothes, medicine and pastoral help to get through to Syria where the United Nations says 60 percent of people are at risk of famine, with inflation rising to nearly 300 percent.
Amid increasing criticism of the sanctions, ACN International President Dr Thomas Heine-Geldern, and Neville Kyrke-Smith, National Director ACN (UK), called on Western nations to intervene amid growing concerns of a surge in hunger and disease.
They said that, although ACN is on course to complete nearly 1,000 projects in Syria since the civil war broke out 10 years ago, aid payments are being repeatedly blocked – even though they are permitted under the current sanctions regime.
In an appeal to governments in the US and Europe, Dr Heine-Geldern said: "It is our duty to provide help to the suffering civil population in Syria – and especially to the rapidly dwindling Christian minority.
"In their name, I beg you to implement the existing international legal framework, which allows humanitarian exemptions to the embargo."
Criticising banks for blocking transfers to Syria, Mr Kyrke-Smith said: "It is absolutely vital that aid from ACN and other charities is allowed to reach those caught in the eye of the storm – those who could not escape, such as the elderly, sick and poor.
"Our partners on the ground are offering hope and help, but they face being blocked even on humanitarian and pastoral payments because banks are too afraid to let funds reach Syria even when officially permitted."
And, hitting out against the sanctions themselves, saying they were "hitting the poorest", Mr Kyrke-Smith stated: "The effect of the sanctions has been indiscriminate.
"We need an overhaul and lifting of these far too all-embracing sanctions.
"There has to be a better way – otherwise the open wounds of war and suffering will never heal."
Their comments echo criticism of the sanctions by ACN project partners in Syria.
Sister Annie Demerjian, working in Damascus, Aleppo and Maaloula, told ACN people in urgent need were going without electricity and gas "because of the sanctions".
Melkite Greek Catholic Archbishop Jean-Clement Jeanbart of Aleppo told the charity last month that the sanctions were being ignored by the Assad regime and had "no result other than making people suffer and become poor and miserable."