UK: HRH The Prince of Wales meets survivors of persecution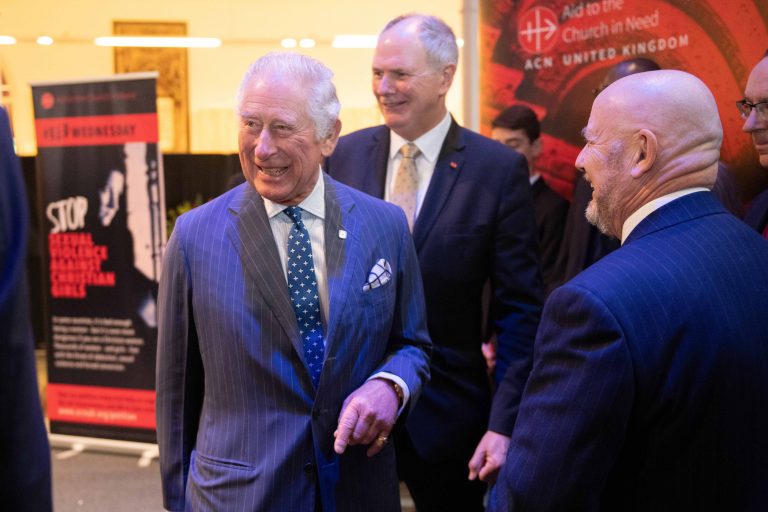 Survivors of persecution supported by a leading Catholic charity met HRH The Prince of Wales at an Advent service in central London dedicated to those who suffer for their Christian faith.
At the event yesterday (Thursday, 9th December 2021) in HTB (Holy Trinity Brompton), Onslow Square, Aid to the Church in Need (UK) National Director Neville Kyrke-Smith introduced HRH to teenager Frank Marooki from Iraq and Father Mark Odion from Nigeria.
Mr Kyrke-Smith also introduced His Royal Highness to key UK figures committed to support for the suffering Church including MP Fiona Bruce, the Prime Minister's Special Envoy for Freedom of Religion or Belief (FoRB), Mervyn Thomas, Chair of the UK FoRB Forum, and Anglican Bishop Philip Mounstephen who led the 2019 Bishop of Truro's review into Foreign and Commonwealth Office support for persecuted Christians.
Frank Marooki was just eight when he lost both parents and all his siblings when their boat capsized in the Aegean Sea following their escape from Iraq's Nineveh Plains which had been seized by Daesh (ISIS).
Father Mark Odion's home city of Kaduna in northern Nigeria has been repeatedly targeted by Islamist militants and in 2001 he lost his uncle, also a priest, during a violent attack on his church and presbytery.
Following his meeting with The Prince, Frank, who now lives in west London, gave a brief testimony to friends and supporters of ACN, including many youngsters his own age representing local schools.
He turned to his uncle, Mark Mansor, thanking him for taking him into his own home and for giving him a fresh start and a new life in the UK.
Frank said: "I would like to thank The Prince of Wales and everybody who has been supporting our country – please do carry on supporting our community.
"I would also like to thank Aid to the Church in Need for supporting the Christians of Iraq ever since the Daesh attack and I hope that Iraq experiences no more violence from Daesh in the future."
Father Odion, whose religious order the Missionaries of St Paul, based in Nigeria, have been supported by ACN, witnessed to distressing scenes of death and destruction in his home city, highlighting the continuing attacks on Christians and the lack of law and order in the region.
Neville Kyrke-Smith said: "I would like to pay tribute to all those whose example of faith and courage inspires us all – the care and concern that His Royal Highness shows is a huge source of encouragement."