UK/INTERNATIONAL: 'Punish the perpetrators'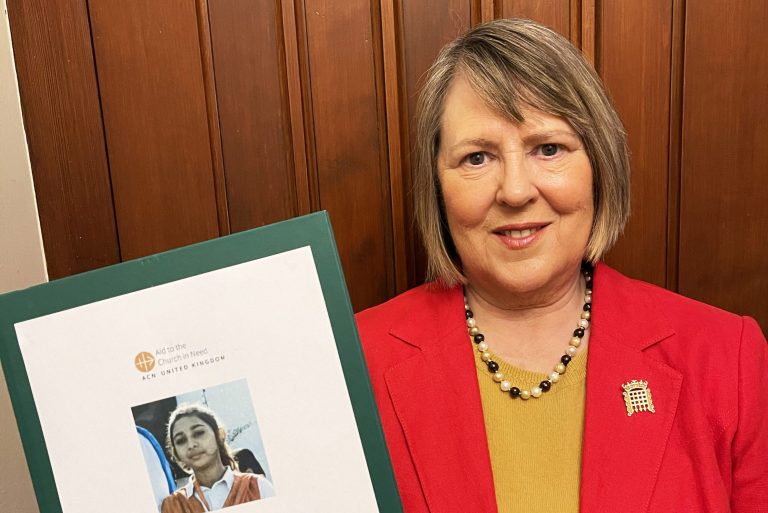 A leading Parliamentarian has called on governments to bring to account the perpetrators of sexual crimes against Christian women – and those of other religious minorities – if they actually want the abuse to stop.
Speaking at an event organised by Aid to the Church in Need (ACN) and Open Doors, which support persecuted Christians, Fiona Bruce MP, the Prime Minister's Special Envoy for Freedom of Religion or Belief, said justice was the best deterrent.
She said: "It is vital that… locally the police take action and pursue the perpetrators, and, through the court systems, people who are perpetrating these terrible crimes are actually brought to public account.
"Because it is only if we do that, only if we see these perpetrators punished, that there is a likelihood that others will not commit the same actions in the future."
The event, called 'The Forgotten Women: Persecuted Women and Girls from Religious Minorities' and attended by 22 MPs, also featured Hinna Maluch, a Christian woman from Pakistan who suffered persecution, and Rahima Mahmut, a Uighur human rights activist.
Speaking about the prevalence of kidnapping, rape, forced conversion and forced marriage of Christian and Hindu girls in Pakistan, Mrs Maluch said that what partly motivated the abductors was a desire to cleanse Pakistan of impurity.
She said: "There is this concept that impregnating Christian women, and having them give birth to non-Christian children, is a way of purifying the land. That's how it's thought of. With that mentality you can't work towards equality for minorities."
She added: "Having the perpetrators brought to account [is important] to set good examples of the enforcement of laws so that the vast majority can see that it's not easy just to take matters into their own hands. They can't just have mob killings and persecution of all sorts, and abductions going on."
Mrs Mahmut, who left Xinjiang for the UK when she was a young woman, agreed with the UK parliament's declaration in April 2021 that the mistreatment of Uighur Muslims by the Chinese government is tantamount to genocide.
She said: "I, along with many in my community, was overwhelmed by the solidarity and peace that was shown to us when they voted unanimously to declare the treatment of Uighurs a genocide."
Mrs Bruce told how she "wept" when she read ACN's report 'Hear Her Cries: the kidnapping, forced conversion and sexual victimisation of Christian women and girls'.
She finished saying: "Once again, can I just commend ACN and Open Doors…thank you for all that you are doing".
To watch 'The Forgotten Women' event visit https://bit.ly/3vMTKlR
A Parliamentary debate in Westminster Hall is being held on Thursday, 17th March about gender-specific religious persecution.