UK/INTERNATIONAL: 'Religious freedom is more than being free to worship'
• Webinar next week will address the vital human rights issue of our age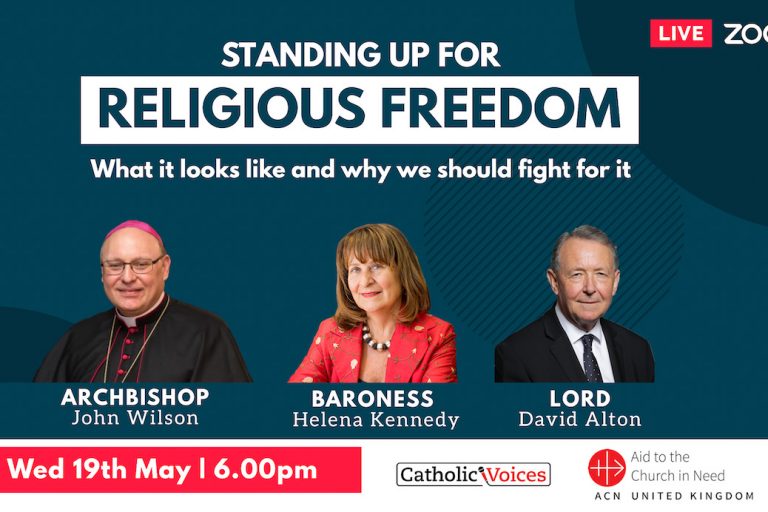 Standing up for religious minorities whose rights are trampled on as a result of persecution and indifference will be addressed at a webinar led by a UK archbishop, two peers hit by Chinese sanctions and a seminary rector in Nigeria.
Aid to the Church in Need (ACN), a charity supporting persecuted Christians, will host a webinar, in partnership with Catholic Voices, on Wednesday, 19th May at 6pm called "Standing up for religious freedom: What it looks like and why we should fight for it".
Speaking at the event will be Archbishop John Wilson of Southwark, Baroness Helena Kennedy QC of the Shaws, Professor the Lord David Alton of Liverpool and Father Habila Daboh, rector of the Good Shepherd Seminary, Kaduna, northern Nigeria.
It was at the Good Shepherd Seminary that four seminarians were kidnapped in January 2020 and the youngest, Michael Nnadi, aged 18 was killed.
Lord Alton and Baroness Kennedy have both been banned from entering China – and Chinese nationals are forbidden to do business with them – following their work supporting Uighur Muslims.
John Pontifex, head of Press and Information at ACN and chair of the event, said: "Religious freedom does not enjoy the same airtime as other rights – be it gender or ethnicity – which are well-established as fundamental to a free society.
"However, religious rights are little understood and even less upheld, both here in the UK and elsewhere in the world."
Mr Pontifex added: "People need to understand what religious freedom actually is. Freedom of religion is not just freedom to worship – it's the right for an individual to have their religious conscience respected and upheld.
"We want to empower people to defend the rights of those who simply want to practise their faith freely and peacefully, without infringing the rights of others."
The event follows last month's launch of ACN's Religious Freedom in the World Report 2021, which found a decline in 95 percent of worst-offending countries.
Brenden Thompson, CEO of Catholic Voices, a global programme to improve the Church's representation in the media, said: "In various quarters there seems to be a religious blind spot. For example, there are nuns in India who do lots to help the victims of human trafficking who are looked over for financial support because they are religious.
"We ignore the contribution religion can make to civil society to our own detriment."
"Standing up for religious freedom: What it looks like and why we should fight for it" will take place over Zoom on Wednesday 19th May at 6pm. To register your interest in the event, please visit: https://tinyurl.com/3en5a3h2