UK/IRAQ: Join us in prayer for Iraq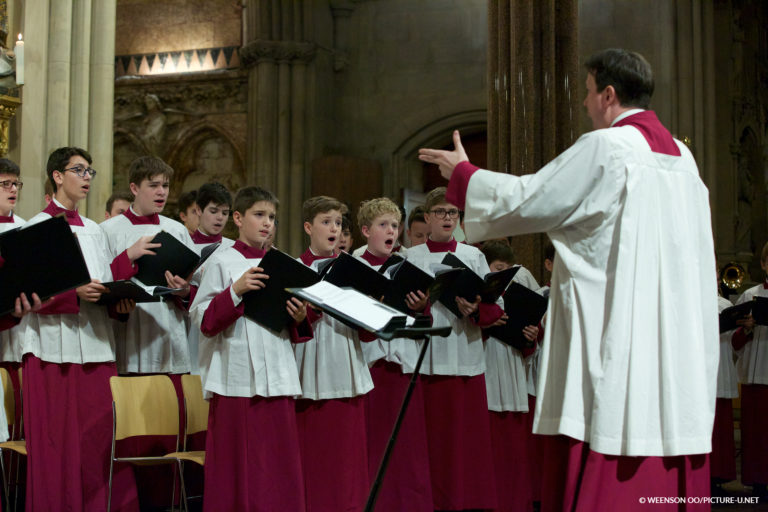 An online devotional service for Holy Week – enriched by some of the finest sacred music – is being offered for people wishing to unite their prayers with those of suffering Christians in Iraq.
The London Oratory has joined forces with the London Oratory School's Schola Cantorum to record a Way of the Cross service in support of Iraq's persecuted Christians helped by Catholic charity Aid to the Church in Need (ACN).
The virtual service, which can be viewed here, celebrates the strong relationship which the church, the school and its schola have forged with Christians in Iraq, who continue to suffer in the aftermath of the 2014-16 Daesh (ISIS) genocide.
Schola cantorum director Charles Cole came up with the idea for the online service in response to Pope Francis' visit to Iraq earlier this month, when he met many of the Christians helped by ACN.
Visiting the Nineveh Plains, the Pope went to the Great Al-Tahira, in Qaraqosh, Iraq's largest church, desecrated by Daesh and rebuilt with help paid out last month by ACN (UK).
Mr Cole said: "The annual service of Stations of the Cross for ACN is an important date in our calendar through which we aim to unite in prayer and sacred music with the suffering Church around the world.
"We hope that the combination of reflections on the Stations and the powerful beauty of the music will both enable a deeper contemplation of the Passion of Our Lord, and offer a sense of consolation and hope in these difficult times."
The Schola Cantorum perform works including Lotti's 'Crucifixus', 'O vos omnes' by Pablo Casals, Victoria's 'Caligaverunt oculi mei' and 'Salvator mundi' by Thomas Tallis.
Introducing the programme, Neville Kyrke-Smith, National Director, ACN (UK), quotes Pope Francis, who during his Iraq visit, told the faithful: "The Church in Iraq, by God's grace, is already doing much to proclaim [the] wonderful wisdom of the Cross by spreading Christ's mercy and forgiveness, particularly towards those in greatest need.
"Today, I can see at first hand that the Church in Iraq is alive, that Christ is alive and at work in this, his holy and faithful people."
Now, ACN is prioritising aid to enable Christians to return home to their village of Batnaya, in the Nineveh Plains, which was flattened during the conflict.
The charity is helping to repair a convent, a kindergarten, a parish hall and a library.
The Aid to the Church in Need (UK) Lenten Service (Way of the Cross) for the Suffering Church in Iraq led by the Schola Cantorum of the London Oratory School can be viewed here
Your kind gift of £25 – or whatever you can afford – will go towards ACN's work to help rebuild the Christian village of Batnaya, in Iraq's Nineveh Plains – the convent, the library, the parish hall, the kindergarten.