UK/LEBANON: 100km for 300,000 people made homeless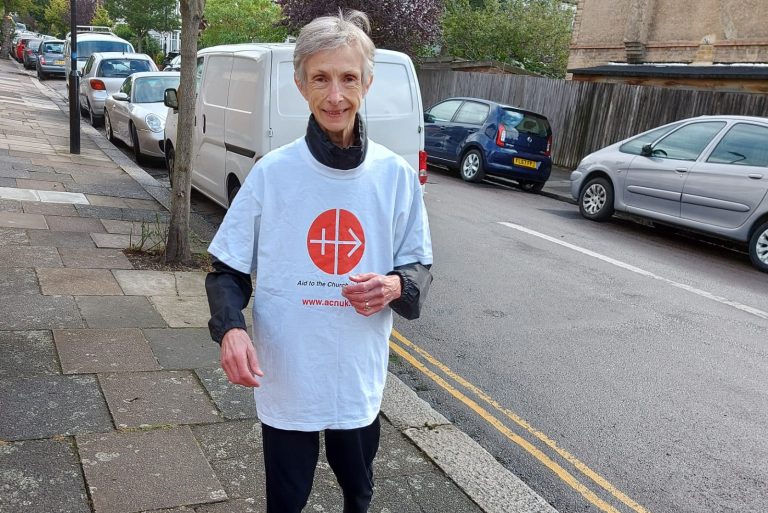 A benefactor of a leading Catholic charity has raised more than £2,700 for the people of Beirut by walking 100 kilometres (62 miles) in three weeks.
Annie Martin, 68, from the Ealing Abbey Aid to the Church in Need (ACN) parish group in west London, told the charity that she embarked on her challenge after being horrified by the explosion in the Lebanese capital.
More than 200 people died following the blast in early August, at least 6,000 were injured and more than 300,000 were made homeless.
Mrs Martin said: "It was the Holy Spirit that gave me the idea because I was moved by what happened in Lebanon.
"Social distancing ruled out what I would usually do to raise funds but I thought to myself, 'I can go for a walk, that won't hurt anyone.'"
Mrs Martin started her series of walks on 14th September and finished at 6:08pm on 4th October – exactly two months after the explosion in Beirut.
While on her walks, Mrs Martin prayed the Rosary, which she said helped her connect with the people of Beirut and their suffering.
She said: "I wasn't quite sure how it would go but each day I was walking, most of the time I managed to say a decade of the Rosary.
"I would select a particular mystery to help me understand the situation in Beirut.
"The habit has stayed with me. This morning I meditated on the scourging of the pillar and it made me think of all those shards of broken glass after the explosion, and the dreadful injuries they caused. I don't want to boast but praying as I walked really helped."
Following the explosion, ACN provided emergency aid, including a £226,000 food package targeted at poor families.
Mrs Martin said: "The family packs in particular were a good motivator for me to do the walk and they attracted a lot of donations.
"The donors I talked to trust ACN and felt that the funds would be used wisely."
ACN is preparing a new wave of aid of £1.8 million, which involves the restoration of several churches as well as monasteries, presbyteries, catechetical centres and convents.
Neville Kyrke-Smith, National Director, ACN (UK), said benefactors – like Mrs Martin – have responded generously during the coronavirus pandemic.
He said: "Annie has gone the extra mile – in fact, an amazing 100 kilometres – to help those in such dire need in Lebanon. She stepped out in faith, hope and charity, as a friend of the suffering.
"We have been so encouraged by the wonderful response of our friends and benefactors, especially during this difficult time.
"Thank you, Annie, and all the faith-filled friends of ACN."
Annie Martin is still accepting donations in support of her walk to help her meet her target of £3,000. Please visit https://bit.ly/2FvID92
ACN is looking for people to take on a personal challenge for the charity. Please contact Dr Caroline Hull, the charity's community outreach manager: [email protected] on 0781 553 8425.