UKRAINE: Charity rolls out emergency aid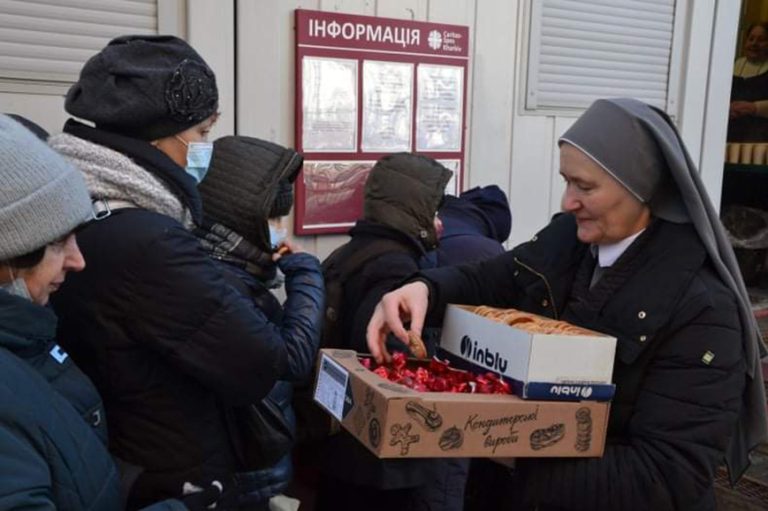 A Catholic charity is set to despatch €1 million in immediate emergency aid as Ukraine descends into a state of war.
With project partners reporting a deepening catastrophe, Aid to the Church in Need (ACN) has rushed through plans to send €1 million (more than £830,000) to help the Church in Ukraine as it ministers to a country invaded by Russian troops.
Bishop Pavlo Honcharuk of Kharkiv, one of the dioceses in eastern Ukraine that ACN is supporting with emergency help, said: "The situation is getting worse every day. We live now from hour to hour.
"Prices are rising, especially for essential goods. The situation in the diocese is very difficult.
"The number of faithful has decreased and those remaining, unfortunately, cannot maintain the parishes or support the priests. They come themselves and ask for help from the priests and sisters."
The emergency aid will meet the essential needs – including heating, lighting, water and food – of the diocese's 57 priests as well as the 54 members of religious communities, enabling them to continue their vital ministry to those struggling to make ends meet.
ACN will be providing these essentials for the four Greek-Catholic exarchates and the two Roman-Catholic dioceses covering the eastern regions of Kharkiv, Zaporizhya, Donetsk, Odesa and Krym.
Bishop Honcharuk added: "People need consolation, strength and support. The immediate emergency grant by ACN, in addition to its current support, will strengthen the Catholic Church in Ukraine in its commitment to stay on the ground and keep serving its flock in the face of military and economic war."
As part of the emergency package, the charity has also committed to ensuring 6,229 priests and members of religious congregations across the country receive subsistence aid to help them carry on their pastoral work.
Dr Thomas Heine-Geldern, international executive president of ACN, stressed the charity's support for, and solidarity with, its project partners at this crucial moment.
He said: "ACN has supported the Church in Ukraine during the past and it will not abandon her at this very critical and difficult time.
"Especially now, ACN has to ensure the presence of priests and religious sisters and brothers with their people, in the parishes, with the refugees, in the orphanages and homes for single mothers and for the elderly who will face the challenge of surviving in a climate of spiralling costs as a result of the war."
Dr Heine-Geldern concluded: "We wish to assure our prayers for the people of Ukraine that, through the intercession of Our Lady of Peace, they may be spared the pain of further violence and loss of life."