UKRAINE: Church helping crisis-hit country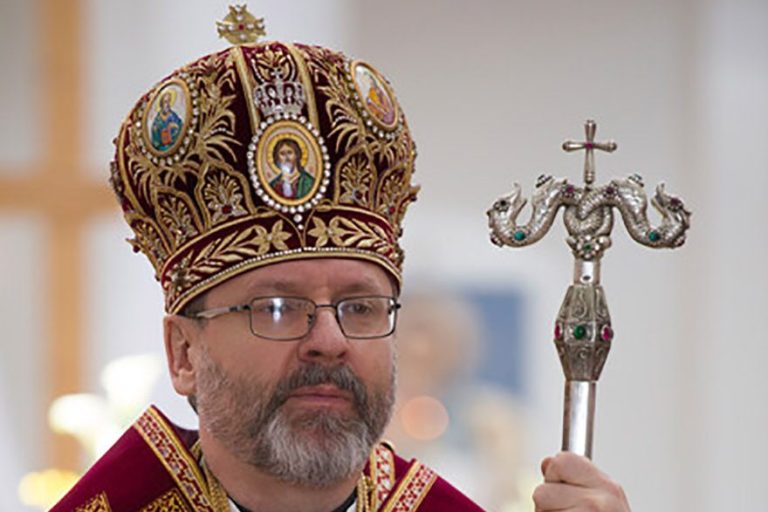 As growing numbers of Russian troops amass on the border of Ukraine, the leader of the country's Catholics has described how the Church is coming to the aid of those suffering because of the mounting crisis.
Major Archbishop Sviatoslav Shevchuk, head of the Ukrainian Greek Catholic Church, outlined the various ways the country was being targeted by the Russian Federation.
The leader of Ukraine's Byzantine Catholics said the "very dangerous escalation of military against Ukraine [is]… only part of the full panorama of different threats and different tensions", adding "this escalation has four dimensions."
In addition to the military build-up on the borders, he said that there were political and economic escalations – not to mention a "war of propaganda".
Describing what he meant by "political escalation", the prelate said that "Russia has declared that the goal of this escalation is to change the government".
But he stressed that it is "economic escalation" which is causing widespread hardship.
Major Archbishop Shevchuk said: "Especially in the wintertime, we feel that Russia is using the price of gas as an economic weapon against Ukraine."
He added that many people were unable to afford to heat their homes.
Outlining the Ukrainian Greek Catholic Church's response to the situation, the Major Archbishop said that the Church is organising help for those in need.
Major Archbishop Shevchuk said: "This year our goal is to heat those who are cold, to help to enable them to survive the winter."
He added: "The parish community is the first and most important place for the people – especially meeting those in need."
Parishes have also set up food banks and clothing stores to meet the growing needs of the people.
The Church is trying to help those afflicted to survive the crisis in different ways.
Major Archbishop Shevchuk said: "We are trying to develop and foster networking of Church communities – [we must] stay together to support each other."
The head of the Ukrainian Greek Catholic Church stressed the importance of prayer and how the Church was praying for an end to the escalation – inviting Aid to the Church in Need (ACN) benefactors to join with them in the Rosary every evening at 8pm.
He added: "When we pray we are not afraid anymore."
Major Archbishop Shevchuk thanked ACN for its support over many years.
He said: "ACN is a special organisation of Christian solidarity, supporting different initiatives in Ukraine."
Ukraine is a priority country for the charity. In 2020, ACN supported 278 projects there, including help for seminaries, Catholic media initiatives and catechesis.