UKRAINE: 'Russia is bombing schools and hospitals'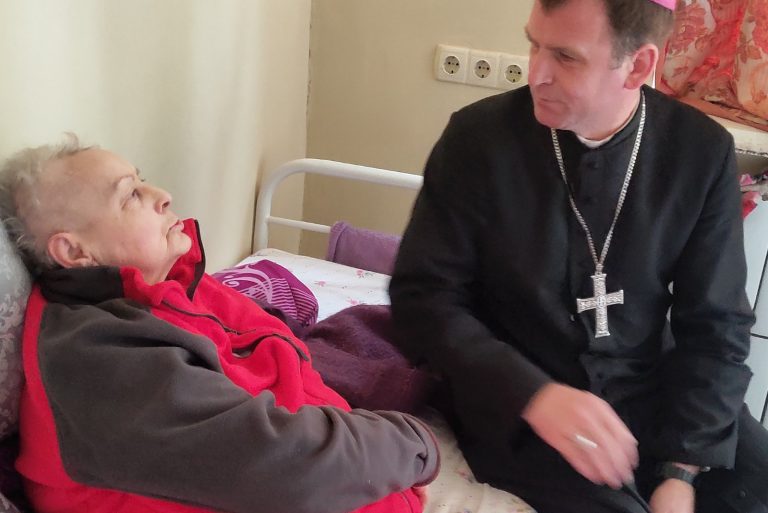 A bishop in Ukraine has condemned the shelling of schools, hospitals and other non-military targets by Russian forces.
Speaking to Catholic charity Aid to the Church in Need (ACN) about the situation in the Latin Diocese of Kharkiv-Zaporizhzhia, Bishop Pavlo Honcharuk told the charity that residential areas are being targeted.
He said: "If anyone is still stuck in the fantasy that Russia is only bombing military facilities, they are not only mistaken, but they are also badly deluded.
"Hospitals, businesses, schools, universities, kindergartens and homes have been destroyed."
Last week, regional governor Oleg Synegubov said at least six civilians were killed and 16 wounded when a block of flats was hit by Russian artillery.
Bishop Honcharuk added: "What is the purpose of shooting at residential buildings and at markets? They also destroy villages – some are simply razed to the ground. What is the purpose of doing this?"
Russian troops started besieging Kharkiv, the second-largest city in Ukraine, shortly after they entered Ukraine in February.
Attempts to surround the city were successfully defeated in May, but soldiers have continued to bombard Kharkiv in an attempt to take the city.
Bishop Honcharuk said that there were still a "good number" of children in Kharkiv.
He said: "They often stay in bomb shelters, and we try to help them. We provide toys, for example.
"Children experience things in a completely different way. Even if they live in basements or shelters, they run and play, they live in a parallel world.
"The Church helps the parents and provides hygiene products, food, and so on."
Bishop Honcharuk expressed fears for the children's future.
He said: "If the situation worsens there will probably be no full-time education, either for elementary school children or for students, because in Kharkiv we see a lot of targeted missile hits on school buildings.
"I don't know exactly how many schools have been destroyed, but at least twenty, also many kindergartens, so it is dangerous to gather a large number of children in one place."
Bishop Honcharuk described being upset deeply by seeing a young child during one of his pastoral visits to a hospital.
The prelate said: "One of the most difficult things for me was seeing a three-year-old child… who was wounded during shelling.
"It is unclear whether he will survive. He is only here because someone wanted a war."
He added: "Here one feels powerless. On the other hand, there is also the awareness that the Lord is sending me here to serve."
Thanks to Jurij Blazejewski who conducted the original interview with Bishop Honcharuk.