UNITED KINGDOM: Struggling for ideas for children under lockdown? ACN may just have the answer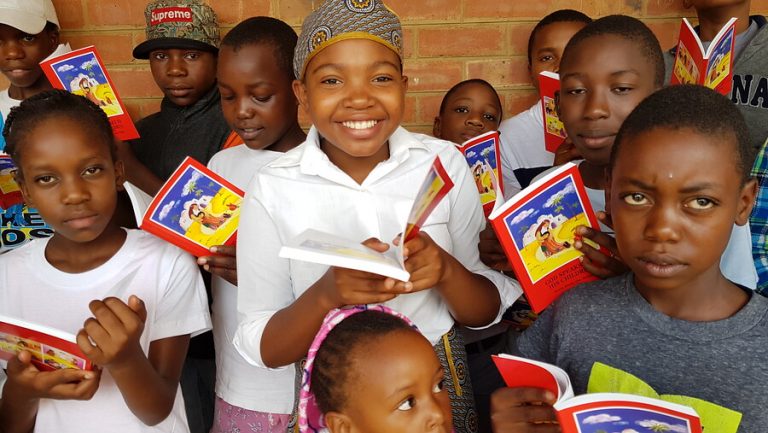 Help is at hand for UK families with young children stuck at home during the COVID-19 lockdown thanks to a new initiative involving a familiar friend – the Aid to the Church in Need (ACN) Child's Bible.
Devised by the schools' team of the charity for persecuted and other suffering Christians, the ACN UK Child's Bible project is based on 'God speaks to his Children', the little red book of paraphrased Scripture stories beloved of children all over the world.
Now, more than 30 years after the Child's Bible first appeared, ACN has begun collecting videos of people reading and reflecting on each of the stories, recordings which are being released chapter by chapter to inspire youngsters doing home-schooling during the lockdown.
The chapter for Monday (27th April) will be read by UK actor Alex Macqueen, who appeared in last year's Horrible Histories: The Movie – Rotten Romans.
About 25 bishops from Argyll and the Isles in Scotland to Plymouth in south-west England are among those who have signed up to do a video recording of themselves reading extracts of the book.
Headteachers, lay leaders as well as ACN staff and volunteers have also taken their share of the readings – 99 chapters in total.
For each weekday a video is uploaded onto ACN's YouTube channel, along with a reflection on the story by each reader.
The initiative, which comes in response to a Bible focus 'The God who speaks' set by the Catholic Bishops' Conference of England and Wales, celebrates the enduring value of the little red book, which has been translated into 190 languages with more than 51 million copies printed.
Dr Caroline Hull, ACN UK's community outreach manager, said: "ACN project partners around the world tell us that the Child's Bible is in some cases the only book a child will ever own.
"The Child's Bible project provides a fresh opportunity for youngsters to learn the story of our faith, to grow in their understanding of how God has spoken through the ages and have plenty of fun along the way with crafts, drama, puzzles and other challenges."
The Child's Bible Project is designed to be used at home while schools are closed, but will also work well in a classroom setting. Children can follow the chapters in numerical order, or make use of individual chapters to complement topics covered in other lessons.