Hear why it takes courage to be a Christian … In Africa
Please watch and share both recent and historic videos telling of their testimonies and suffering in Africa and how ACN is helping.
In parts of Africa, especially Sub-Saharan Africa, and explosion of terrorism has seen a 70% increase in extremist violence against Christians and other minority faith minorities. The destruction and displacement of communities, torture, killings and sexual slavery are the reality for millions of people.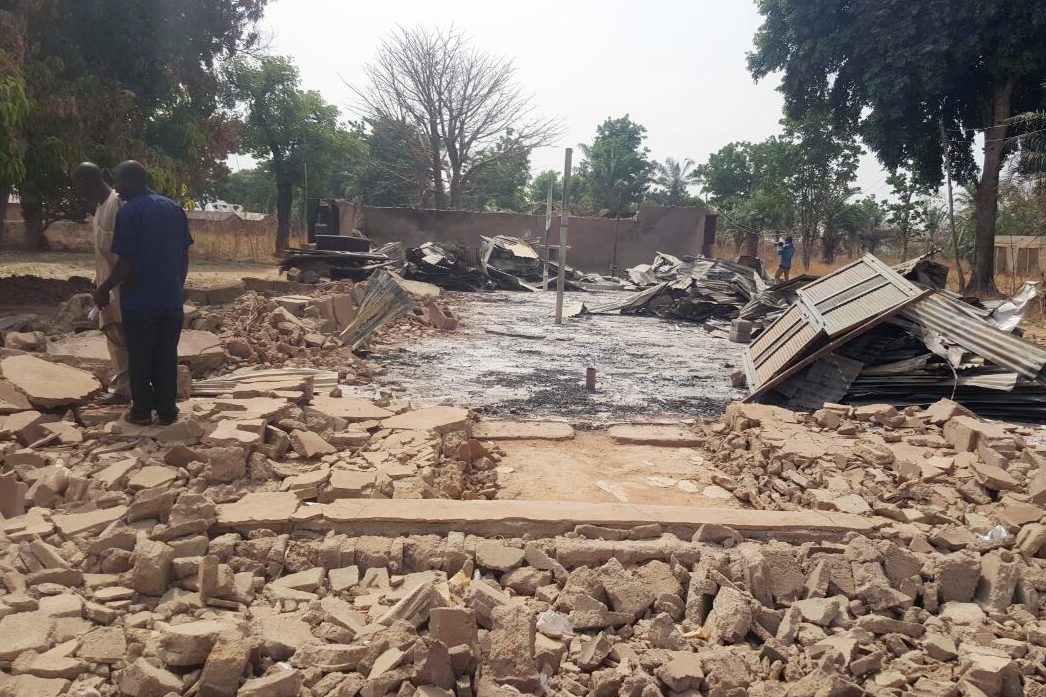 Watch church burned to the ground in Kaduna State, Nigeria this September
Violence in Nigeria in the night of 7th September 2023 saw a seminarian Na'aman Danlami burned to death in the attack in Kamantan, St. Raphael Parish Fadan, Kafanchan diocese. The terrible incident took place when a large group of Fulani bandits attacked and set fire on the rectory of St. Raphael parish Fadan.
watch the Video
---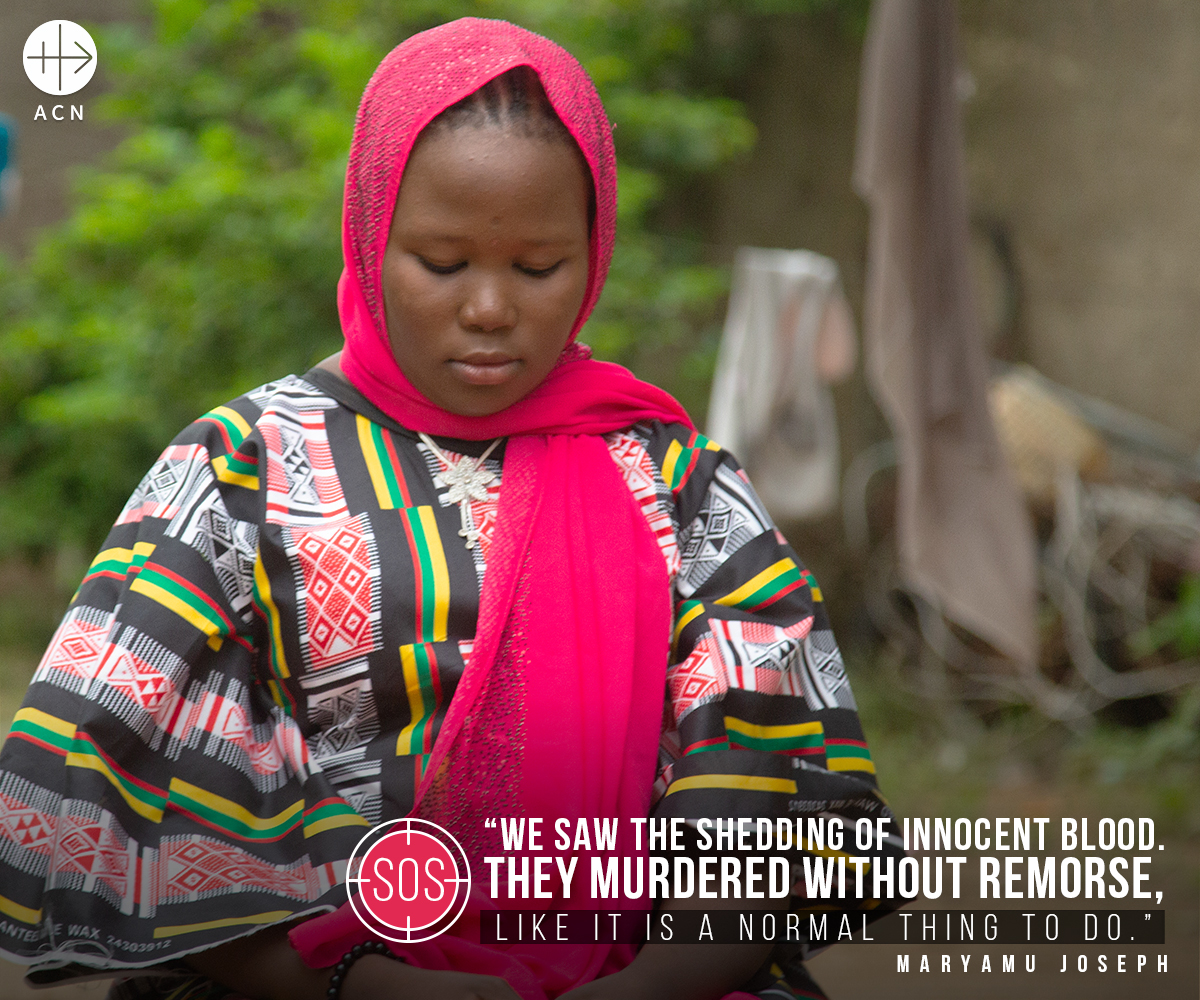 Maryamu Joseph, escaped Boko Haram in July 2023
Sixteen-year-old Maryamu escaped Boko Haram after being held against her will for nine years. She told ACN how her family were murdered by the Boko Haram.
"Words cannot do justice to what I've gone through. Right before my eyes, they took one of my siblings and killed him. They cut off his head, then his hands, legs, and stomach,"
she said in Persecuted & Forgotten 2020-2022 report published by ACN.
watch the Video
---
Supporting the traumatized displaced families in MOZAMBIQUE!
Cabo Delgado, the most northern province of Mozambique, could be a paradise!
In nearly 1,000 events of cruel attacks against localities by Islamist insurgents and counterattacks of Mozambican and allied troops more than 3,000 people have already died. And over 800,000 people have lost their homes.
Many are trying to help where they can. But the greatest suffering, the trauma, cannot be eliminated with tents and food. They count on ACN's help to provide psychosocial support to the traumatized displaced families.
---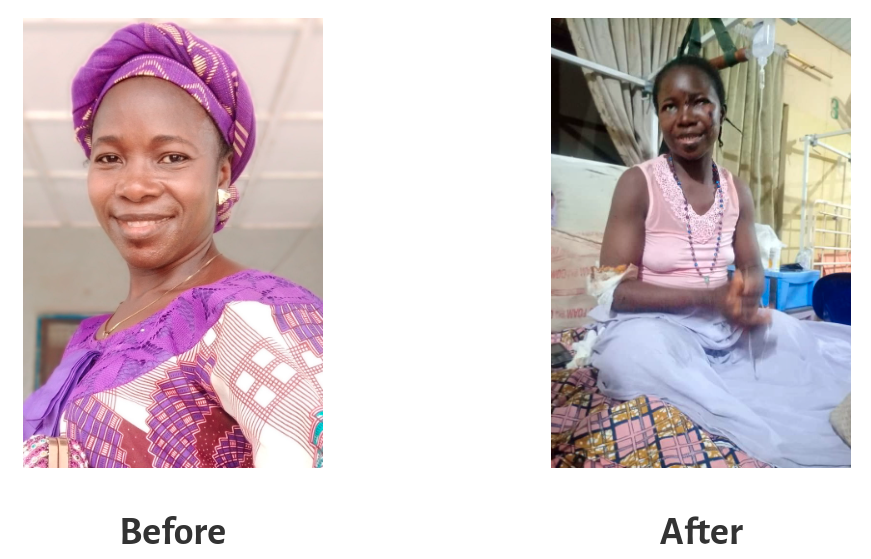 Margaret lost both legs and her sight in 1 eye in Owo terrorist attack
On the day of the attack, St Francis Xavier's Church in Owo was packed with parishioners, as it was Pentecost Sunday.
Margaret was up in the church gallery singing in the choir when gunmen began shooting. Margaret was one of 70 people who suffered serious injuries. 41 people were killed, including six children.
Read the Report
---
SOS Christians of Nigeria! – Assistance to internally displaced persons (Video posted 6months ago – 2mins 36)
"I did not imagine I was going to see the mass suffering in such a manner. Villages burned down. People being killed in their homes. Some have been unable to bury their dead, because they were shot in the bush as if they were wild animals. The killings are continuing."
2 million Christians have fled violence and persecution and are living in miserable camps in Nigeria. With ACN, help the local Church care for them with material and pastoral help.
---
Inter-religious dialogue at the Reconciliation Centre in Nigeria
We have insurgencies brought about by terrorists and many people lost their lives. Oftentimes those who go out to destroy properties and kill are the youth because they are always the foot soldiers that are used.
The Dialogue, Peace and Reconciliation Center is a place of healing for Christians and Muslims to always come and find solutions to problems. When people are fighting in communities that's why we bring them here. We brought farmers and herdsmen here. We brought different religions here. We brought different communities here to settle differences. We teach them certain principles.
By doing that, we end up transforming them to become peace agents.
Back to Main Page