UK/INTERNATIONAL: Report to offer 'hope' for world's persecuted people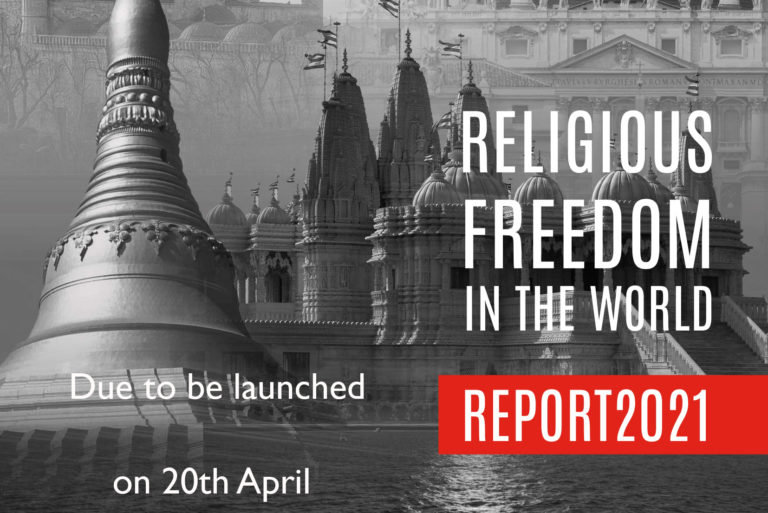 A long-awaited landmark report assessing religious freedom in every country on earth is to be launched at a public online event in the UK on Tuesday, 20th April.
Professor Heiner Bielefeldt, former UN special rapporteur for religious freedom, has described the 'Religious Freedom in the World Report 2021', due to be published by international Catholic charity Aid to the Church in Need (ACN), as a "source of hope" for people around the world suffering because of their faith.
The work of more than 30 international academics, journalists and others, the report examines the state of religious freedom in 196 countries and is one of the only surveys of its kind not produced by, or for, a government.
More than two years in the making, the report was delayed because of the COVID-19 pandemic, and will be launched simultaneously in capitals around the world.
A contributor to the report, Prof Bielefeldt, UN Special Rapporteur on Freedom of Religion or Belief at the United Nations Human Rights Council from 2010 to 2016, said: "The report on religious freedom worldwide is important to remind us of the atrocities happening in many parts of our globe."
Referencing for example the Uighurs in China and the Rohingyas in Burma (Myanmar), the professor said the report "has particular importance for those who suffer such violations".
The public online UK launch of the report on 20th April at 6pm will be co-chaired by Brendan O'Hara, SNP MP for Argyll and Bute, and ACN (UK) National Director Neville Kyrke-Smith, with an overview of the report given by ACN's John Pontifex.
Speakers include Bishop Oliver Dashe Doeme of Maiduguri, Nigeria and Syriac Catholic Archbishop Nathaniel Nizar Semaan of Hadiab-Erbil, northern Iraq.
MPs speaking will be Alexander Stafford, Conservative member for Rother Valley, South Yorkshire, talking on Iraq and Labour's Afzal Khan, member for Manchester Gorton, who will discuss the plight of Uighurs and others in China.
Inviting people to come to launch event, Mr Kyrke-Smith said: "I ask anyone who is concerned with upholding the right to religious freedom around the world to please join us on-line on the day.
"Whatever our faith or denomination, we need to stand in solidarity with people persecuted because of their beliefs and to call for action on behalf of those suffering genocide, enduring dictatorship or surviving militant extremism."
The online UK launch of the 'Religious Freedom in the World 2021 Report' produced by Aid to the Church in Need (ACN) takes place on Tuesday, 20th April 2021 at 18.00hrs (6pm) GMT. To register your interest, and access the event from a link that will be available from 5.30pm onwards on 20th April, please visit: https://acnuk.org/event/launch-of-acns-religious-freedom-in-the-world-report/