Maira Shahbaz petition Page
Abducted during Covid-19 lockdown close to her home in Pakistan, life for Maira Shahbaz, aged 14, suddenly turned upside down:
They threatened to murder my whole family. They have also shown me my naked video and pictures which they have taken on their mobile while raping me.
—Maira Shahbaz, 14, in a statement to the police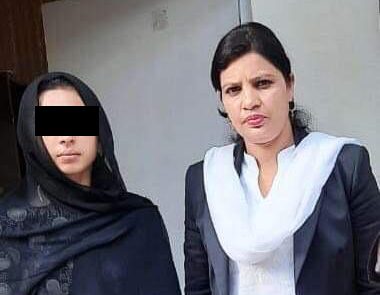 On 28th April 2020, in Medina Town, Pakistan, 14-year-old Maira Shahbaz was bundled into a car at gunpoint by three men. She was filmed and photographed being raped, and was then forced to convert to Islam and marry one of her abductors, Mohamad Nakash Tariq.
Her case went to court and she was placed in a women and girl's shelter, before the Lahore High Court judged that she should be returned to Mr Nakash because she had supposedly embraced Islam. She returned to his home but managed to escape. She gave a statement of her ordeal to the police.
Maira's life is in constant danger because she is condemned as an apostate by her abductor and his supporters. Unless Maira and her family can leave Pakistan they will always be at risk of being killed.
—Sumera Shafique, lawyer for Maira Shahbaz
Her case is ongoing. Regardless of what the court eventually decides, Maira's life will forever be in danger. There is the threat of honour killing. Extremists in Pakistan consider her an apostate and will kill her at the first chance. Her lawyer said men have been looking for her, knocking on doors and asking for her whereabouts.
Sign the petition here