Maira Shahbaz: the story so far
Abducted during Covid-19 lockdown close to her home in Pakistan, life for Maira Shahbaz, aged 14, suddenly turned upside down:
They threatened to murder my whole family. They have also shown me my naked video and pictures which they have taken on their mobile while raping me.
—Maira Shahbaz, 14, in a statement to the police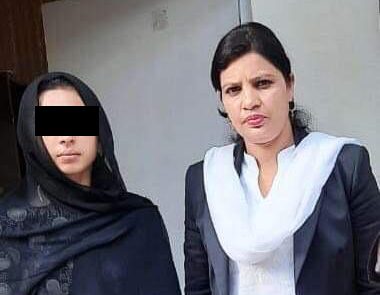 Christian girl Maira was bundled into a car at gunpoint on 28th April 2020 in Medina Town, Faisalabad, Pakistan at the age of 14. Maira alleged that Mr Mohamed Nakash, the man who abducted her, raped her, forced her to convert to Islam and marry him.
Her story has featured multiple court cases in Pakistan, a dramatic nighttime escape from Mr Nakash's home, international headlines and a campaign for Maira to be granted asylum to the UK that has led to discussions at the highest levels of government.
A full timeline is below.
28th April 2020.

Three armed men kidnap Maira at gunpoint and bundle her into a car in Medina Town, Faisalabad, Pakistan. It is captured on CCTV.

5th May 2020.

Her case goes to the Faisalabad Magistrates' Court. The family's lawyer, Khalil Tahir Sandhu, produces a birth certificate to show Maira was 14 when she was abducted –

Mr Nakash insists she was 19 – but the court rules in Mr Nakash's favour. Maira's mother, Nighat, is rushed to hospital with a heart attack.
23rd July 2020.

The Faisalabad District and Sessions Court, acting on evidence from the national birth registry, orders Maira be placed in a women and girls refuge.

4th August 2020.

Despite new evidence of Maira being underage, and a fatwah from the imam invalidating the marriage service he had allegedly conducted, the Lahore High Court rules in Mr Nakash's favour and Maira is returned to his home.

18th August 2020.

Maira makes a dramatic nighttime escape from Mr Nakash's house and informs the police he had drugged her, forced her to abandon Christianity, raped her repeatedly and filmed it to blackmail her. She goes into hiding due to death threats against her on grounds of apostasy – men go door to door looking for her.

28th August 2020.

Police are instructed to provide security for Maira and investigate the video being used to blackmail her.

25th November 2020.

As part of ACN's #RedWednesday, more than 12,000 people sign a petition calling on Prime Minister Boris Johnson to give asylum to Maira.

4th February 2021.

Fiona Bruce MP, the Prime Minister's Special Envoy for Freedom of Religion or Belief, receives the petition with the aim of "immediately drawing it to the attention of the Home Secretary for her urgent consideration". Alongside this petition, Neville Kyrke-Smith, National Director, ACN (UK), sends the Prime Minister an open letter backing the asylum bid. The letter is signed by more than 30 MPs, peers, bishops and leaders of charities and human rights organisations.

7th June 2021.

Home Secretary Priti Patel agrees in Parliament to meet Sir Edward Leigh MP and representatives of ACN to discuss Maira's urgently needed asylum bid.