VATICAN CITY: Pope blesses icon for the people of Syria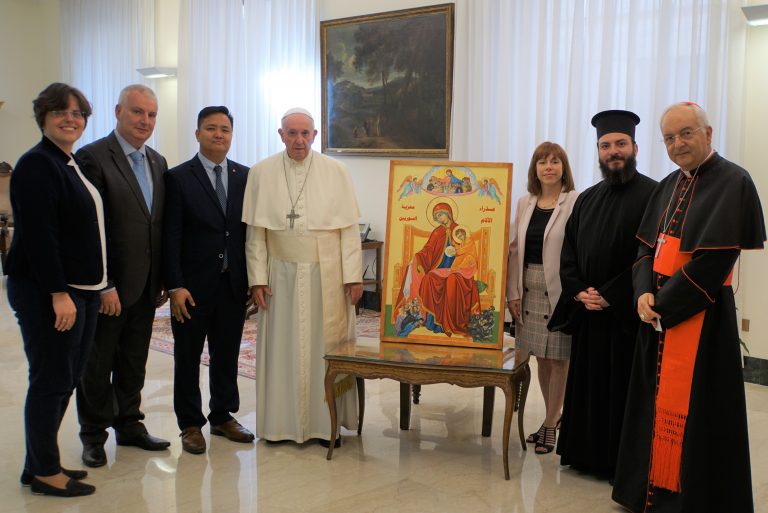 Pope Francis yesterday (Sunday, 15th September) blessed an icon bound for the people of Syria as part of an initiative by a leading Catholic charity to enkindle faith and hope in a country shattered by suffering.
The icon of the Our Lady of Sorrows, Consoler of the Syrian People, was blessed by the pontiff at a private ceremony in the Vatican attended by a delegation from project initiators Aid to the Church in Need.
The blessing ceremony took place the same weekend as Christians in towns and cities across Syria received 6,000 rosaries blessed by the Pope a month ago – 15th August, Feast of the Assumption of the Blessed Virgin Mary.
ACN, which is behind the rosary initiative, has prioritised emergency and pastoral support for Syria, completing more than 850 projects since the war began in 2011.
The charity teamed up with Greek Orthodox priest Father Spiradon Kabbash, who created the icon, which will be sent to each of Syria's dioceses, 34 in total, beginning with Damascus, the capital where it will be presented by the Apostolic Nuncio to Syria, Cardinal Mario Zenari.
Father Kabbash said he had designed the icon as a message of hope.
He said: "We will send it to many places in the world because they need consolation from God. The war is too heavy for the people."
Speaking after yesterday's papal blessing ceremony, Cardinal Mauro Piacenza, President of Aid to the Church in Need (International), said that the feast of Our Lady of Sorrows gives us a lesson in true maternal compassion.
The rosary and icon initiatives came in response to reports that 2,000 Christian families have lost at least one member during the war.
About 800 families have had at least one member abducted during the crisis.
"Christians around the world face discrimination, oppression and persecution for their faithfulness to Christ. Please take the time to find out more so that you can be a voice for them. Your kind gift and your prayers will also help support thousands of ACN projects around the world. Thank you."
DONATE NOW