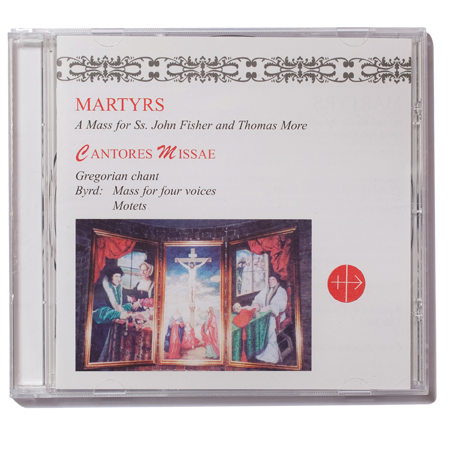 Sung by the renowned London choral group Cantores Missae, this Aid to the Church in Need recording celebrates the Mass for the feast day of John Fisher and Thomas More, two of the Reformation's most celebrated saints.
The ensemble comprises just five singers, and this recording brings an intimacy to Thomas Byrd's music that is in keeping with the clandestine conditions in which Mass would have been celebrated in 16th century Protestant England.
The lives of John Fisher and Thomas More which the recording celebrates have a direct echo in the hundreds of thousands of Christians still dying for their faith around the world today.
Details:
A Mass for Saints John Fisher and Thomas More
Gregorian Chant
Mass for Four Voices and Four Motets by William Byrd
Cantores Missae
Kirsty Hopkins, *Alice Grinnin (sopranos), David Gould (counter-tenor), Nicholas Keay (tenor), Jonathan Brown (baritone), Charles Finch (director)
1. Introit – Multae tribulationes (chant)
2. Kyrie
3. Gloria
4. Gradual & Alleluia – Accedire ad eum (chant)
5. Credo
6. Offertory – Mirabilis Deus (chant)
7. Motet – O quam gloriosum*
8. Motet – Justorum animae*
9. Sanctus & Benedictus
10. Agnus Dei
11. Communion – Oves meae (chant)
12. Motet – Ego sum panis vivus
13. Motet – Ave verum corpus
CD; Running time: 48:46