UKRAINE: Lviv church opens doors wide to Ukraine's refugee families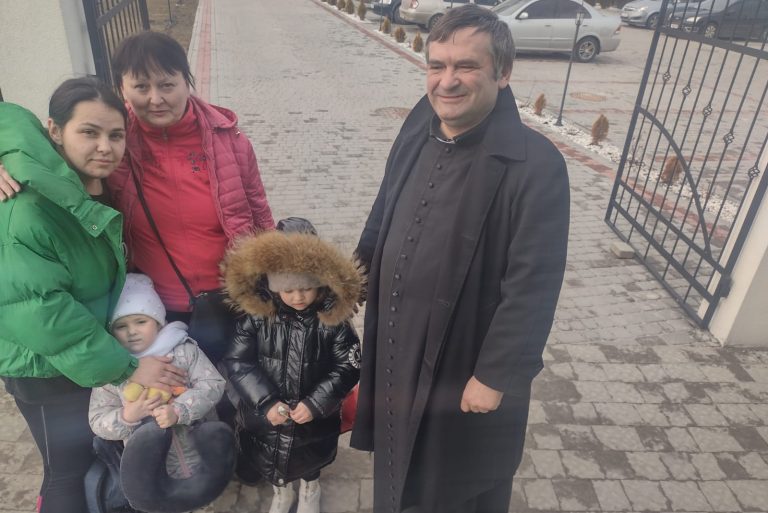 Refugees fleeing Russian military attacks and bombardments in Ukraine are finding a welcome at a Roman Catholic parish in Lviv.
Speaking to Catholic charity Aid to the Church in Need (ACN), Father Grzegorz Draus from St John Paul II Church described how they were taking in IDPs making their way to neighbouring Poland in order to escape the war.
He said: "The first refugees arrived on the second day of the war, on Friday," adding that, within three days, 60 people, including 35 children, had come.
According to the priest, IDPs have been arriving from across Ukraine, including Kiev, Zhytomyr, Zaporizhzhia, Pershotravensk near Mykolaiv, Kamianske and Kryvyj Rih.
Father Draus said: "When they arrive, they are exhausted and terrified. The journey through Ukraine takes very long now – the roads are congested and there are a lot of checkpoints.
"A family of eight who arrived this evening from the Mykolaiv region (about 800km away) had been travelling for three days."
Although the presbytery only has one guest room, parish members have been turning all available space into accommodation for refugee families.
They have also provided mattresses, bed linen and food.
The parish has also given assistance to another church supporting IDP families leaving Ukraine.
He said: "We have donated blankets and mattresses to a parish community that is organising aid in its town at the Shehyni-Medyka border crossing for those who are travelling on foot and waiting in the 37-km-long queue at the border."
Father Draus described how most of the families his parish receives continue on to the border after one or two days.
But he added: "They know that they will be waiting at the border for another two days."
Sunday Mass attendance has fallen – the priest believes has fallen by 80 percent as people are afraid to leave their homes – but there have been some unusual ecumenical visitors to Sunday services.
Father Draus said: "Baptists and Pentecostals from Kiev, Zhytomyr and Zaporizhzhia stayed overnight at the parish house from Saturday evening to Sunday evening.
"They all attended Holy Mass and shared their experiences with us."
According to Father Draus, the conflict seems to have strengthened people's belief.
He said: "From what I have seen, war does not weaken the Faith – quite the opposite. Those who came to Holy Mass, including more than 20 children, stayed for a while longer and prayed together. God is there and helps."
ACN sent €1 million (more than £830,000) in the wake of the Russian invasion, to support priests and members of religious congregations working in parishes, with refugees, orphans and the elderly.