KIDNAPPED, FORCIBLY MARRIED, RAPED, FORCIBLY CONVERTED
The terror that many Christians face is something hard to comprehend in the West. Around the world, countless numbers of Christians are kidnapped, attacked or killed. Thousands more face discrimination and legal abuses in core aspects of their lives – housing, wages, education, access to healthcare and future prospects – and all because of their faithfulness to Christ.
ACN Parliamentary Letter for Maira Shahbaz
A letter is being circulated among parliamentarians, also calling on Prime Minister Johnson to grant asylum to Maira Shahbaz.
The letter is below: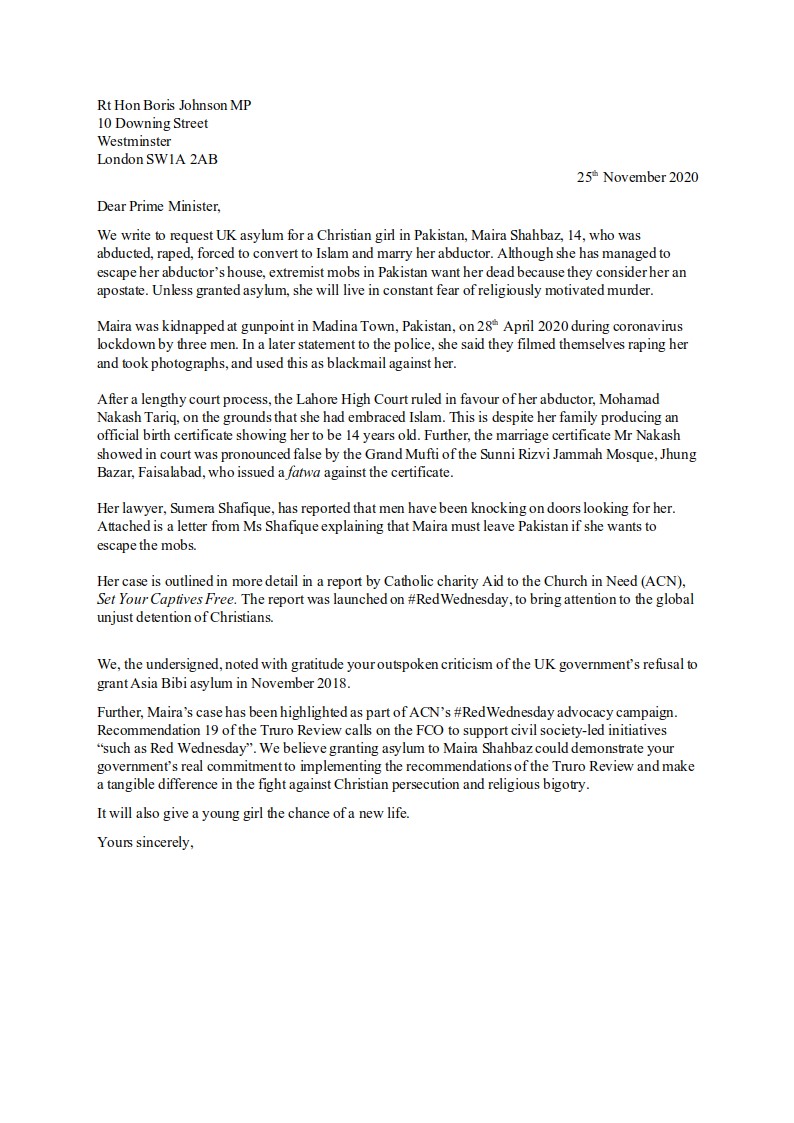 We invite you to write to your MP and ask them to sign this letter. For more details contact [email protected] who will help facilitate the process. Please notify him if you do contact your MP.
NB: This letter is for parliamentarians only
WILL YOU HELP US ADVOCATE FOR THOSE IN NEED?
Leah Sharibu, Nigeria.

Now thought to be 16-years-old, Leah is the last remaining school girl held captive after terrorists kidnapped 110 female students in February 2018. Leah refused to give up her faith and for this was she forcibly married to a Boko Haram leader, raped and has now given birth to a child.
Patriarch Abune Antonios, Eritrea.

Ordained in 2004 as the third Patriarch of the Eritrean Orthodox Tawahedo Church, Abune Antonios was vocal in protests against the arrest of his priests. In January 2006 the government removed Abune Antonios as Patriarch, confiscating his signs of office and he has been under house arrest ever since.
Maira Shahbaz, Pakistan.

On 28th April 2020, 14-year-old Catholic teenager Maira was kidnapped off the street, forcibly married to her abductor and coerced into abandoning her faith. Her abductor claims their marriage is legal and her family are currently fighting to get Maira back.
Bishop James Su Zhimin, China.

Arrested in 1996 during a religious procession, Bishop James has spent the last 25 years in prison without charge or trial. Visits from friends and family are prohibited. Bishop James is now 88-years-old. Prior to this arrest, he spent 40 years in labour camps for his loyalty to the Church. Image ©UCANews
HOW TO HELP
Sign up for our Advocacy Welcome Pack and find out how to get involved. The pack comes with an overview of our current advocacy work, guidance on writing to your MP and updates on our recent advocacy successes.